Country Pointe - Essington Floor Plan
I'm going to share a condominium interior design project that I just completed over at Country Pointe Residences in Plainview. It's the Essington floor plan built by the wonderful folks at Beechwood Homes, Long Island's award-winning home builder known for exceptional quality of their condos, villas and townhomes and the 5-star amenities in the communities they build.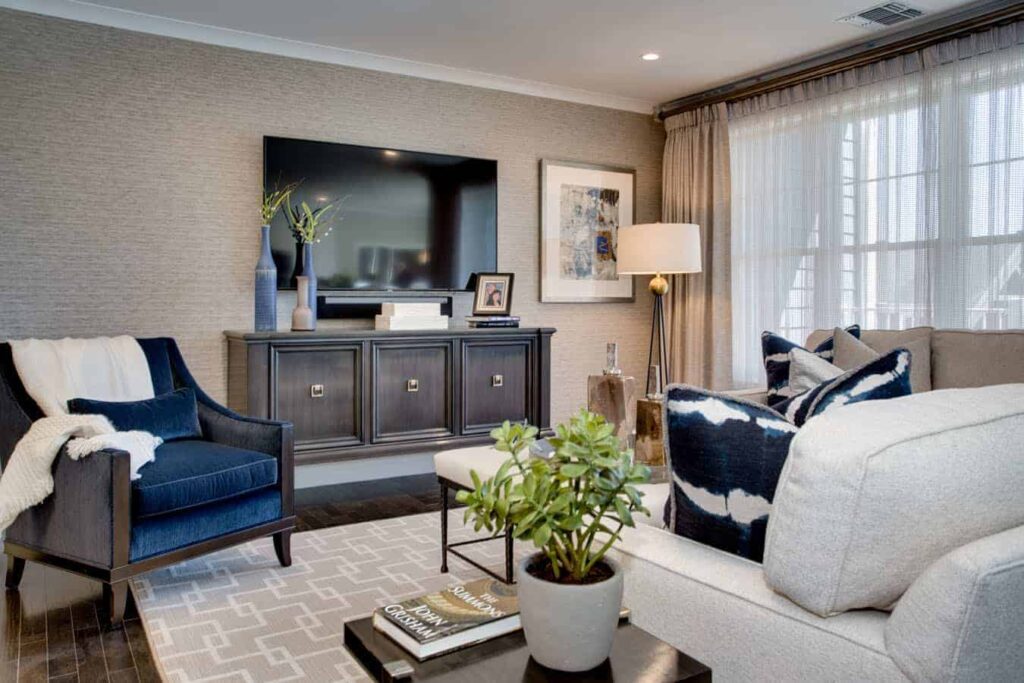 Here's a bit of information about the interior design process and how it works when you hire me and my firm, Interiors By Just Design. I first met Sally and Jeri P. at their home in Plainview and they gave me the builder's floor plans and told me that they were buying the Essington floor plan condominium suite; 2 bedroom, 2 bath, 1 level with 2,056 sf.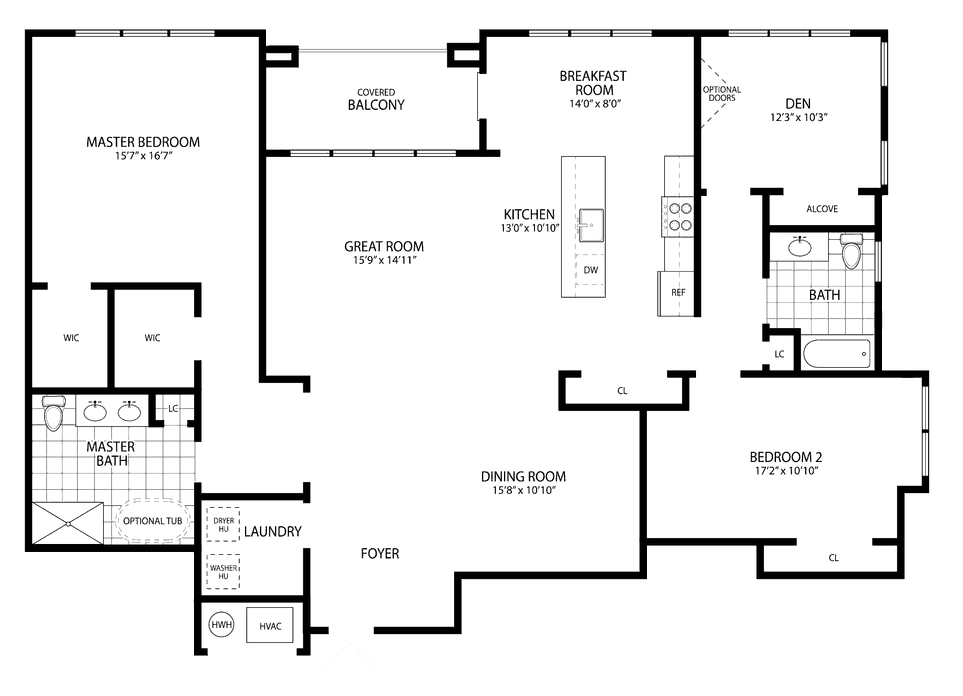 As soon as Sally and Jeri signed on with me for the interior design of their new home, the process began. Often, what I do with the client first, is to find something they absolutely love. It could be artwork from their previous home, or some fabrics, or a carpet that inspires them. The first thing I did with Sally and Jeri was to take them out shopping with the primary goal to find something that they both absolutely love and then use that as a jumping off point. In this case, we found a great pattern on some pillows that they both liked and that was really pretty much where we started. After that, I showed them some rug selections which worked with the fabric pattern in the pillows. At that point it becomes a building process.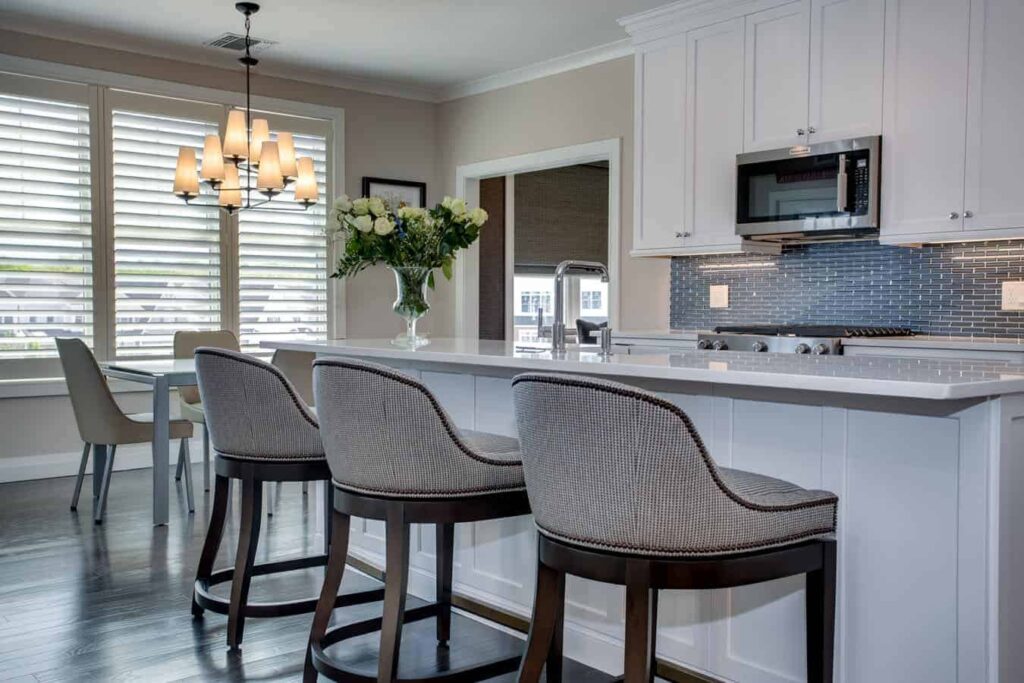 Once I spend some time shopping with them and I understand what they liked, I went out on my own and expanded on the project. I picked out a color selection palette, wallpaper choices, trim, etc. I put together all the prices, the options, the fabrics, furniture, the window treatments, the different floor plans we can do. I also do a lot of customizations so you'll never get the store-bought, cookie-cutter look when you hire me to do your interior design. I work with custom craftsmen who are specialists in their fields such as window treatments, carpet, rugs, tile and natural stone flooring, painting, ceilings, backsplashes and more. I work with quality finish carpenters who make custom bookcases, shelves, cabinets, headboards, ottomans that will fit exactly the way you want them into the limitations of your particular floor plan. Art is an important part of interior design. I'm fortunate to work with a specialist with exquisite taste and talent who offers an incredible collection of inspiring art, or she custom creates art to a client's specific taste. Worth noting is that I use the same specialists whom I have trusted, year after year, so we have reliable specialists and craftsmen with no unwanted surprises.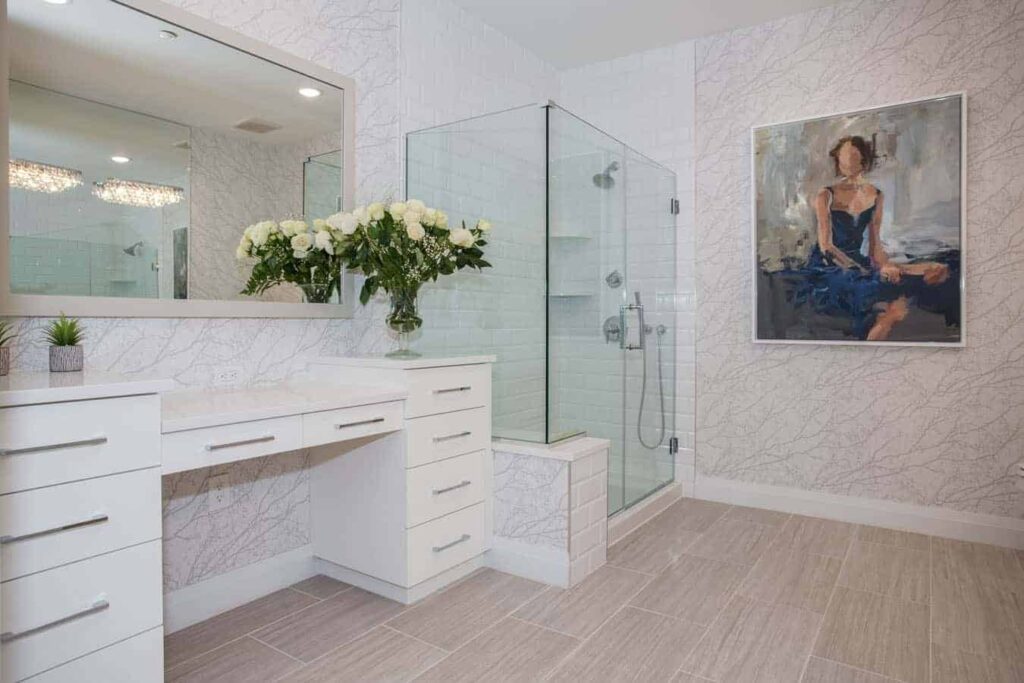 After I put together a whole package, I went back to visit Sally and Jeri and did a complete presentation. Based on their feedback of my presentation, I further refined our design, tossing out what they didn't like and focused in on what they did, ultimately creating a detailed, cohesive interior design plan which they were both happy with and in agreement to proceed. From that step forward the nitty-gritty process begins, carefully organizing and managing the realization of a dream and a design into a reality. That's a glimpse into how the interior design process works with my firm, Interiors By Just Design.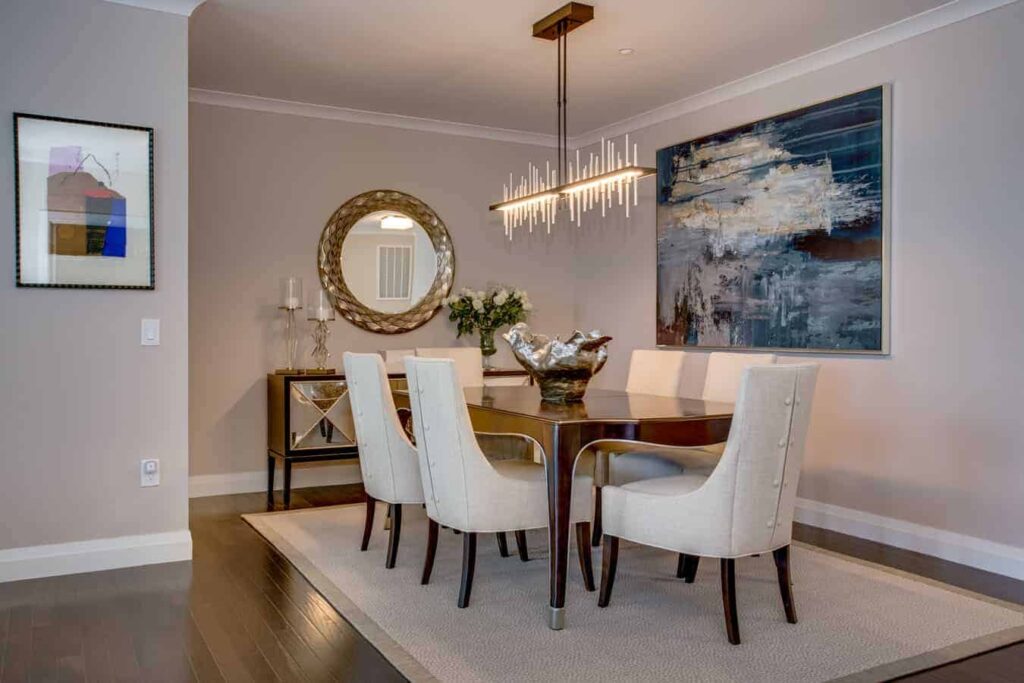 One thing that is very big right now with my clients, be them younger or older, is performance fabrics. Performance fabrics are really great because if someone spills red wine or a grandchild spills grape juice, it beads up and doesn't stain the sofa, chair or ottoman. A lot of my clients who are moving into Country Pointe are Seniors who appreciate performance fabrics because they look and feel the same as regular fabrics, however they are incredibly durable and stainproof. So when they entertain guests or have their grandchildren visit they don't have to worry that everything looks so perfect they don't want anyone to ruin it. They can be more relaxed because the rooms are designed to be lived in and common spills can be easily cleaned.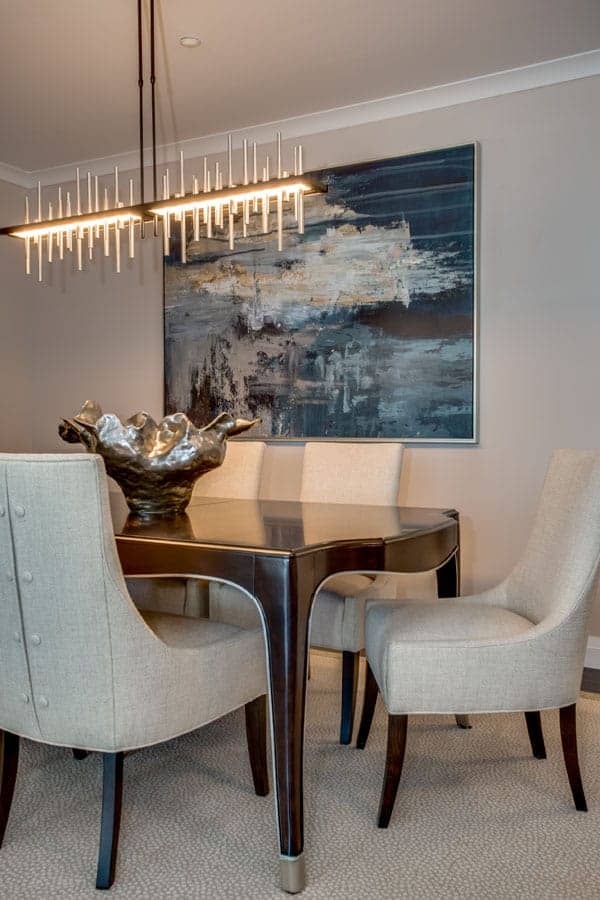 And I'm pretty much there directing it all, holding their hand and making sure everything comes together the way that you, my clients, desire. It's an organized process to put everything together, the colors, the scale. It's a bit of an education process too for my clients because, for example, I will explain to them what's the difference in sofas. Why one sofa is forty-percent less. Any interior designer can select good-looking furniture but do they have enough experience to understand how they are built? You know, there are sofas and there are regular sofas and the difference is not only the aesthetic layer of outer fabric you can see but the inner construction. I understand the differences between the two and how some furniture manufacturers cut corners while others build quality that lasts and is also more comfortable to sit on. And quality doesn't always come at a higher cost. I guide my clients to buy high end furniture at the best cost. I source from A to Z. I purchase items from over 300 trusted people and again what people really like is the customization, the colors, the flow, the scale.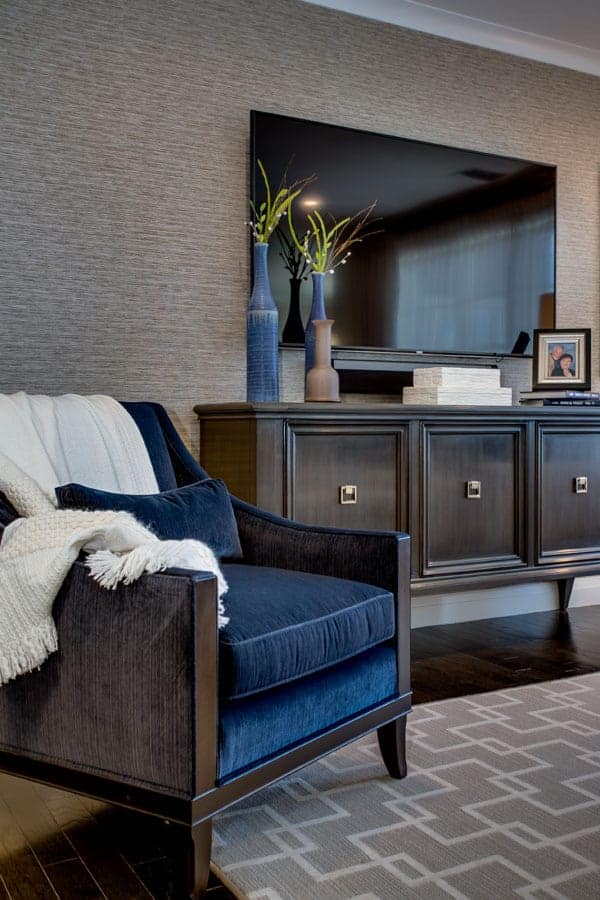 The last thing I want to say is please understand that if you hire me as your interior designer, my number one goal is to please you and your personal taste and not to create some highfalutin notion of what is trendy or supposed to be stylish. This is your home we are talking about. You need to be comfortable living in it. It should delight you on a daily basis. This is why I take the time to listen to you, go shopping with you, to see and understand your likes and dislikes. Only then can I truly create an interior design aesthetic that is customized perfectly for you and your family's lifestyle and needs.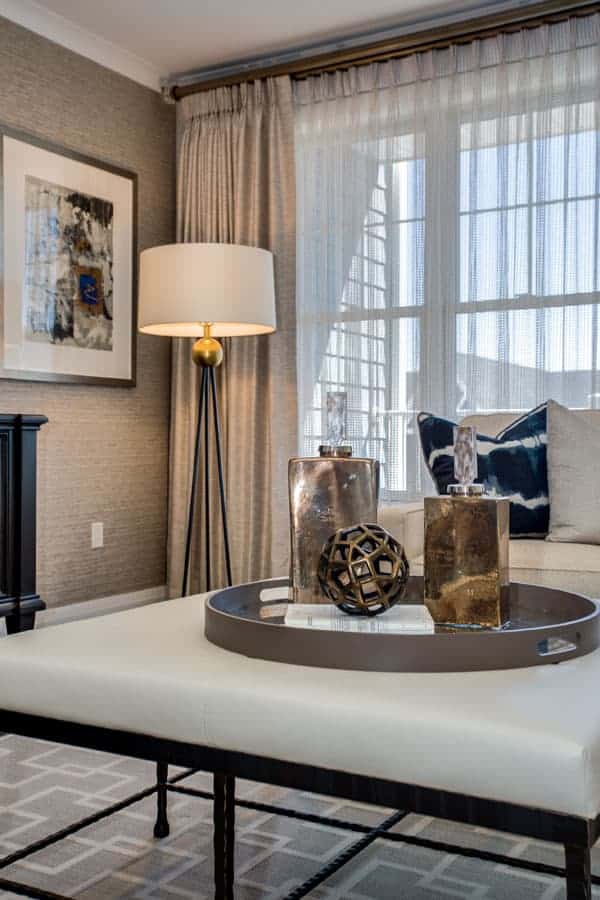 So far I have completed three interior design projects at Country Pointe Residences in Plainview and I have three very happy clients. If you would like to view photos of some of my past work, visit my interior design portfolio photos.
Call Robyn for a friendly phone consultation about a Country Pointe condo, villa, or townhome:
(516) 470.0861