I have been fortunate enough to have been involved in 4 interior design condo projects at the Country Pointe community in Plainview NY. I thought it might be fun to take a tour through some of the units and discuss the different floor plans the builders at Beechwood Homes offer. The homes are classic and refined elegance and my clients who have now spent time living there tell me that they are thrilled with the friends they have made and the sense of community.
The heart of the community is the spectacular clubhouse with a state of the art fitness center, sports bar, card rooms, ballroom, theater, 2 outdoor heated pools and poolside bar. There is also an on-site concierge and social event coordinator.
The Amherst Condo Floor Plan
This unit has 1335 sq. ft., and has a layout that is not only extremely comfortable yet also provides magnificent functionality. From my perspective, the hub of the home is the family room and at 25 ft. x 13 ft. this provides plenty of room to entertain. The dimensions of the other rooms are as follows: The Master Bedroom is 15' x 11'4", the Great Room is 11 ft. 2 in. x 15ft, and the Dining Room is 9 ft. x10 ft.
This Amherst floor plan, while not large, has great bones and ample size rooms to make to make this home very comfortable. Below is the recommended furniture layout but with the proper design plan I can maximize the space of this home and provide many options and multiple floor plans to help you envision all the possibilities.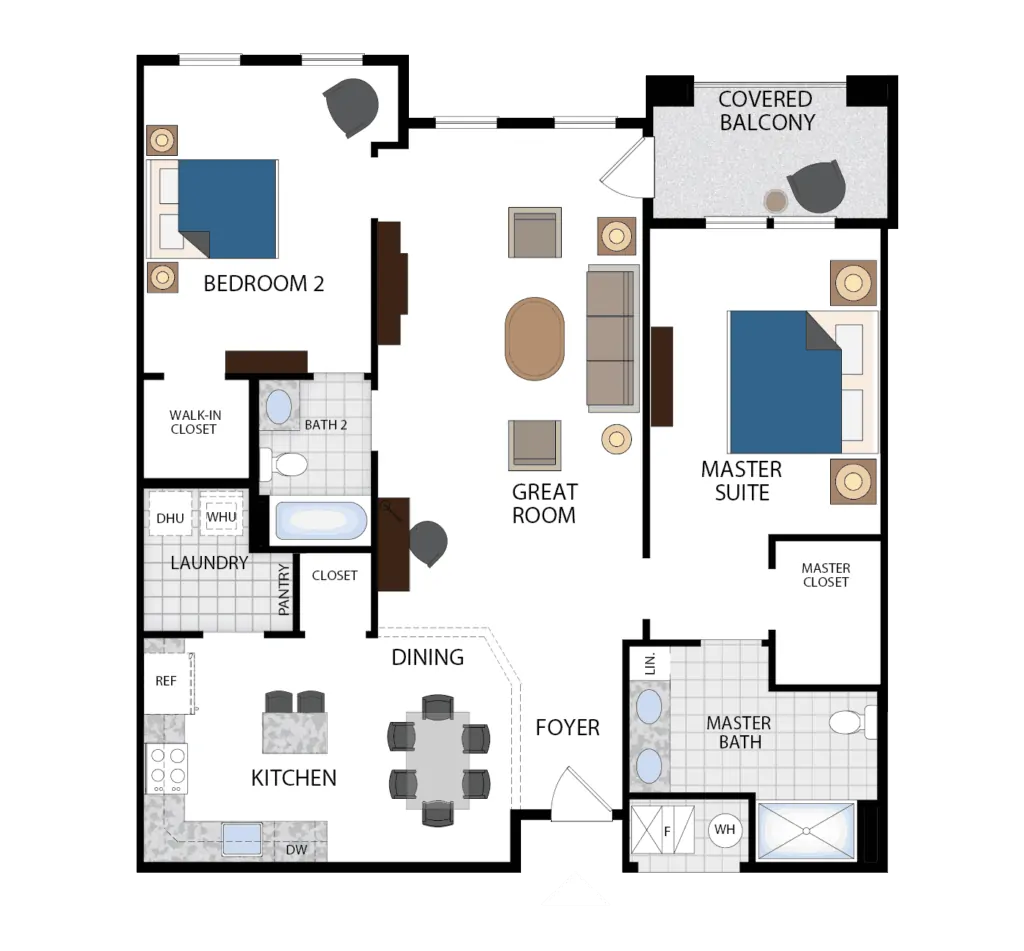 The Barclay Condo Floor Plan
The Barclay has 1379 sq. ft. and a floor plan that provides a well thought out, and very appealing surroundings. The Great Room at 23 ft. 6 in. x 12 ft. 11 in. offers a pleasant size room, and is certainly spacious enough to entertain family and friends. The Barclay Master Bedroom is 12 ft. 6 in. x 15 ft. 7 in., the Dining Room is 12 ft.,10 in X 10 and the second bedroom at 11 ft. x 10 ft. 4 in.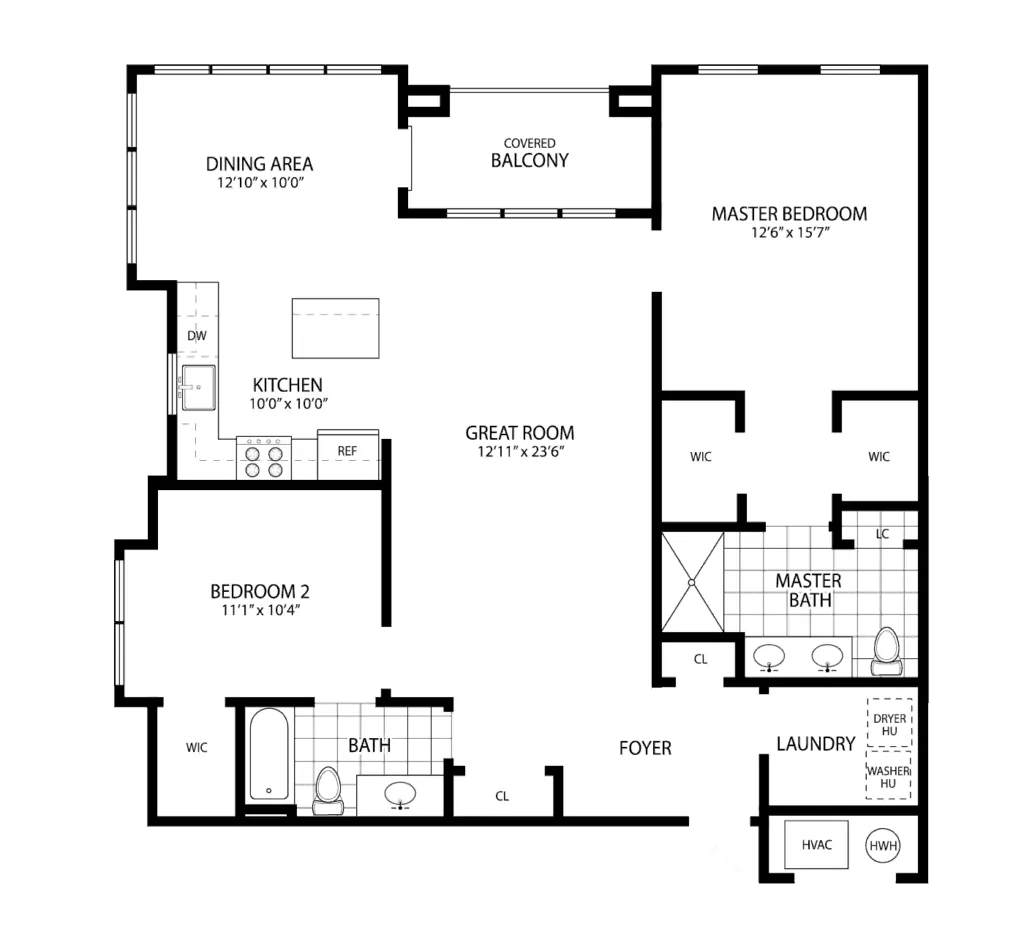 Below is the suggested furniture layout from the builders at Beechwood Homes. Understand that this is an example of one way you can layout your furniture and not the only way. After designing so many homes at Country Pointe we are very familiar with the builder's floor plans, and the options they offer. We are there to guide you, hold your hand, and make the process enjoyable and in the end create your dream home. All can be laid out and designed properly to ensure compatibility of function and beauty. We've got you covered.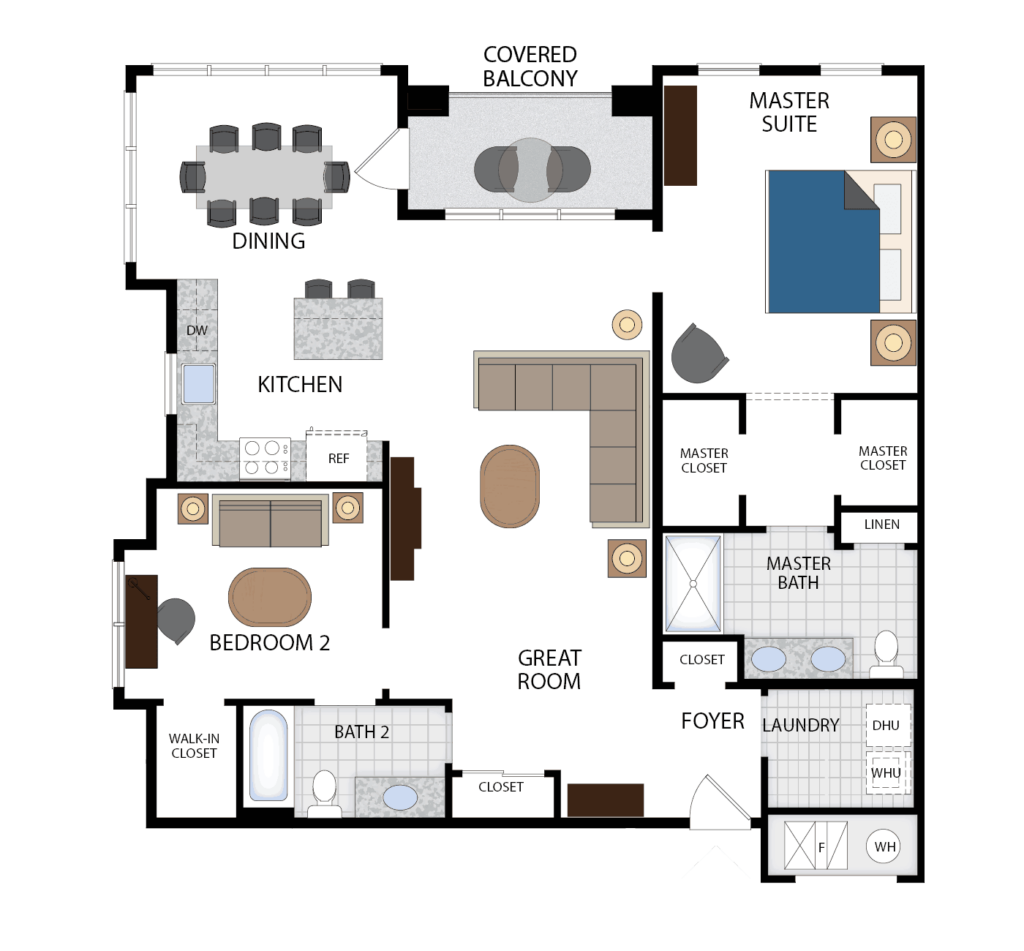 At Interiors By Just Design we love to offer our clients multiple floor plan options that are tailored to your wants and needs. It's always about options and choices. The upmost respect for your specific budget is also of primary importance.
The Cambridge Condo Floor Plan
The Cambridge has 1474 sq. ft. with an open kitchen and dining area off a roomy 13' 6" x 22' great room which creates a expansive feel.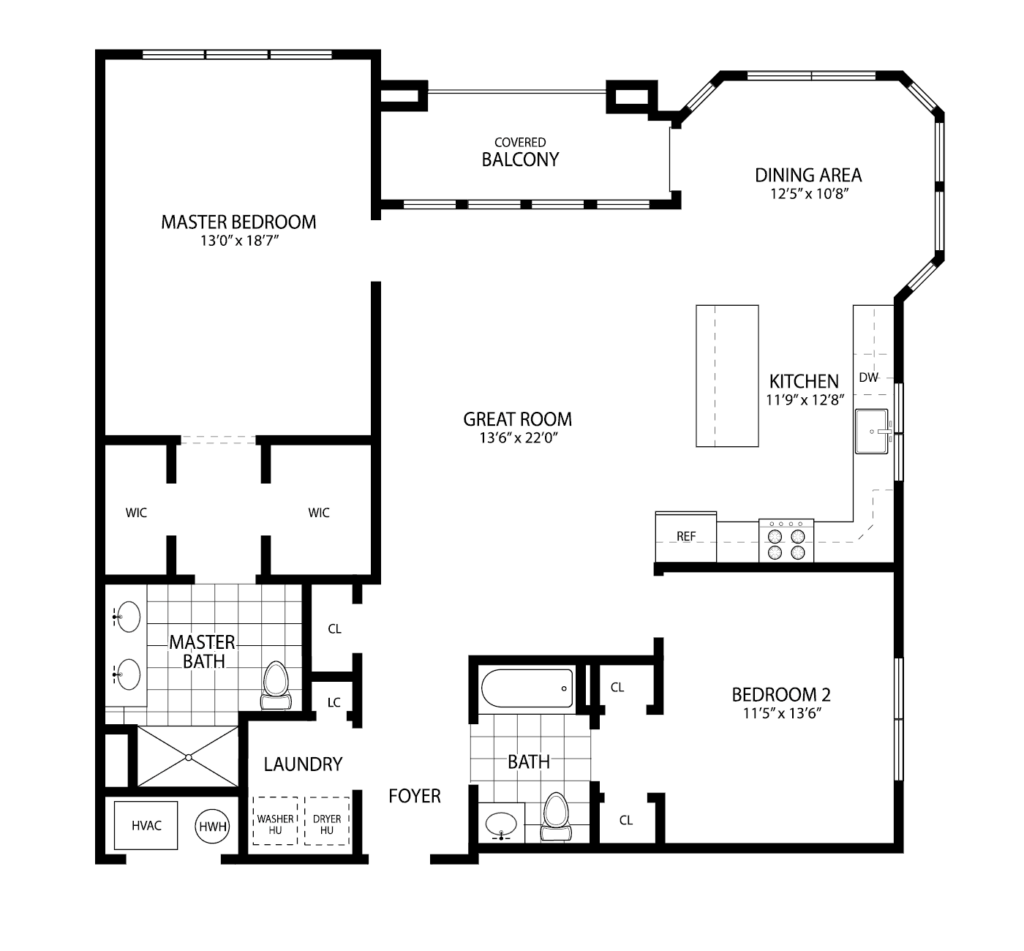 Below is the builder's suggested furniture layout plan but I'm currently completing an a more dynamic interior design in a Cambridge condo for my clients Linda and Paul S. We have had a wonderful time working together and most important they are thrilled with their home I designed for them.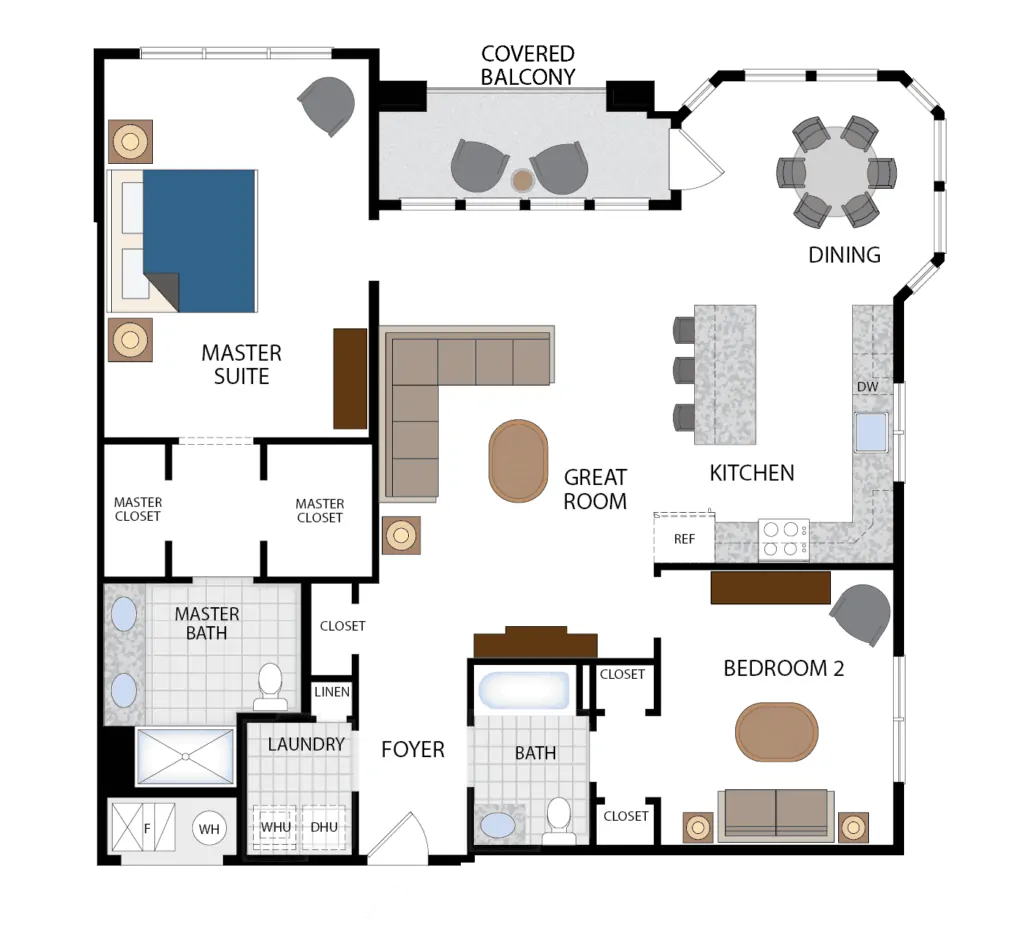 The Dorchester Condo Floor Plan
At 1974 sf, this condo is the 2nd largest that Beechwood Homes offers in Country Pointe Plainview NY. It has 2 bedroom, 2 full bathrooms, one floor.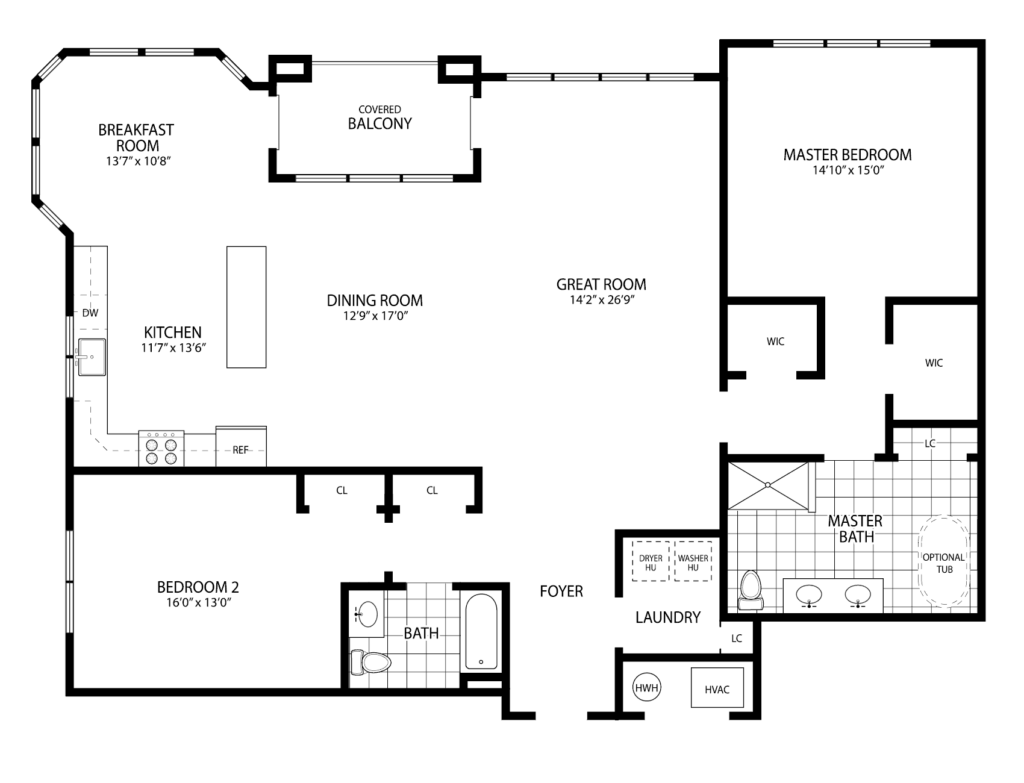 What I love about the Dorchester is the open great room, dining room kitchen and breakfast room, all off a scenic covered balcony. Below is the builder's sample furniture layout plan but understand this is one example. When you hire an interior designer we explore other, perhaps more creative uses of the space.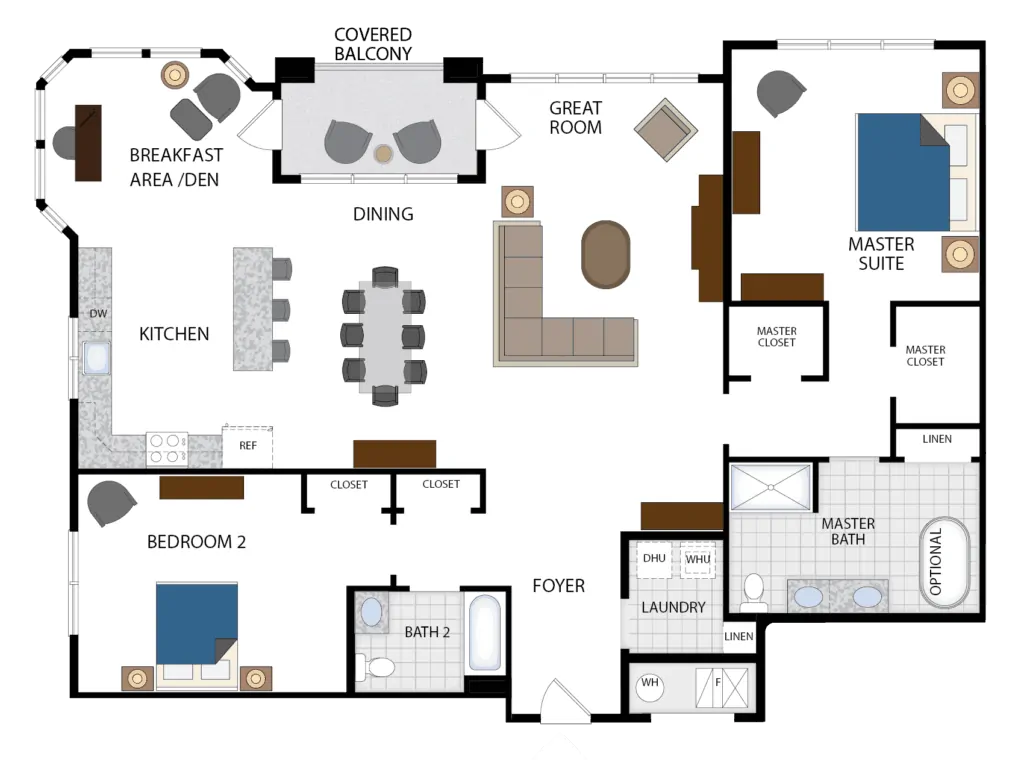 The Essington Condo Floor Plan
My previous Essington Floor Plan Blog talks about my clients Sally and Jeri P. This condo with 2056 of sq. ft. of living space has it all. There is elbow room and openness everywhere. One room expands into the next and you truly feel you're working on a landscape that creates a spark of open and usable space. The master bedroom and the closet areas are beautiful.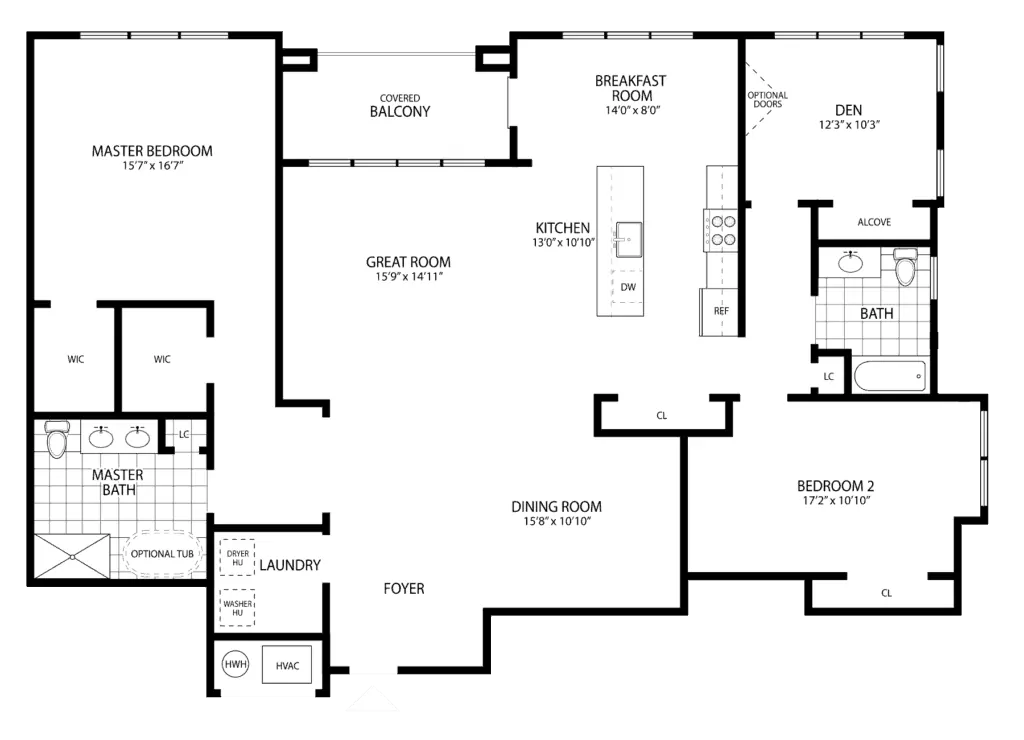 The Family Room like all units in the Beechwood are conceptually open and again. I'm truly blessed to have worked with Sally and Jerry. I gave them a forever home and I can see their happiness their new home and lifestyle has given them. Thanks again to Sally and Jerry.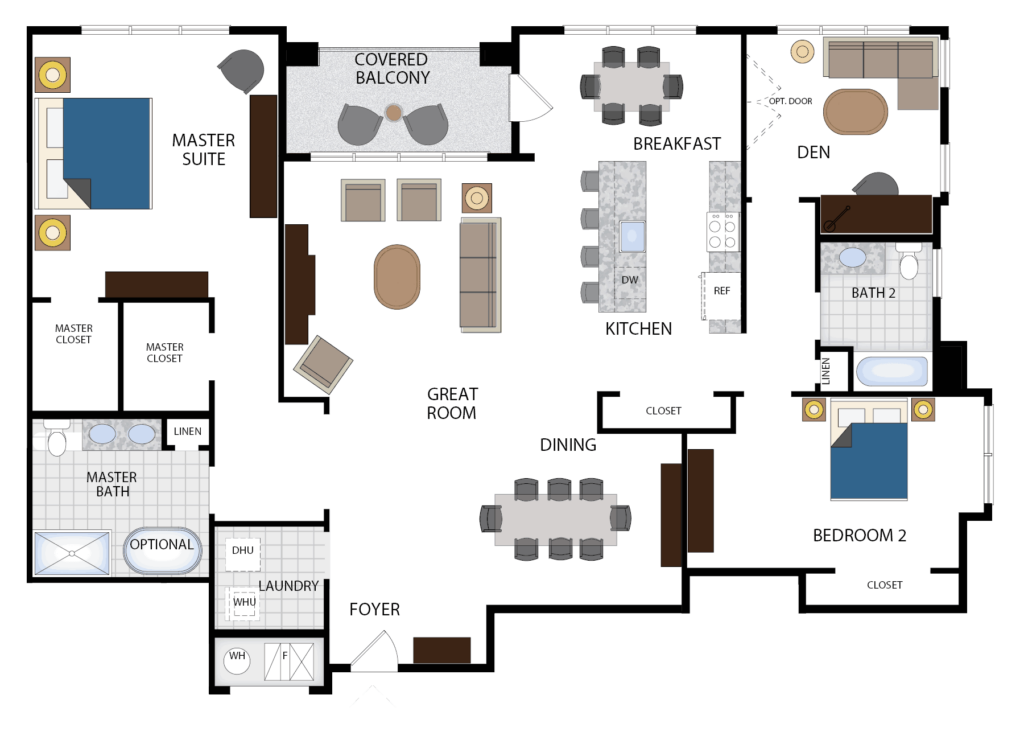 Downsizing from large homes on Long Island to condominiums in all inclusive communities like Country Pointe Plainview is a major trend on Long Island as many look for more convenience, less responsibilities, and stress.
516.756.4720
At Interiors By Just Design, we understand the process. We strive to incorporate the sentimental and meaningful items into your new home; while creating an exciting transition to your forever space .