Interior Design pre-construction
Interior design pre-construction is a must if you want your new home build or home remodeling to turn out exactly the right way. Here's why...
On a snowy day in February I visited a a large 6,000 sf new construction home build. The home's exterior was beautiful and the landscaping was inviting. Upon entering the house it was clear right away what the problem was. The client liked to entertain friends and family. During events like March Madness and the Superbowl they would like to have thirty to forty people in the huge great room. I immediately knew that my client had not designed this room properly for his needs. The home was big and beautiful but not functional and comfortable. The question was, why?
Interior design pre-contruction flaw!
The room was 42' x 18' but the long wall was all glass doors. There was a hallway running adjacent to the windows which then effectively narrowed the room to 15 feet across. At most, the room could only comfortable seat 10 people at one time facing the TV. That left 30 people standing around, craning their necks to get a look at the game.
Had I been called in prior to construction I would have listened to the client's needs and given them several interior design plans with furniture layouts. This would have made their newly built home a more satisfying experience for their entertaining needs.
Hiring a good interior designer pre-construction can act as a guide, mediator, facilitator, an objective set of eyes who can put all the pieces together to create a cohesive, personalized space that reflect's a homeowner's lifestyle and not just a pleasing visual aesthetic. Sure that 42" long wall of glass looked nice but to not be able to seat more than 10 people in 765 sf of living space is an egregious design error. An interior designer is your best ally when building a new home to avoid costly mistakes and frustration upon completion.
I am currently involved in two estate-size home remodels on Long Island; one in Cold Spring Harbor and the other a gorgeous tudor style house in Douglaston Manor.
Cold Spring Harbor Interior Design Pre-Construction
My client's children are all grown up and moved out but they still love their home and want to redesign it to suit their new extended family needs. They love to invite their kids over for long weekends and holidays, enjoy home cooked meals, their pool and tennis courts but the home now needed to accommodate spouses and grandchildren too. This lifestyle change doesn't just mean adding sleeping space and bathrooms but also privacy and traffic flow to make these family visits comfortable for both guests and the homeowners.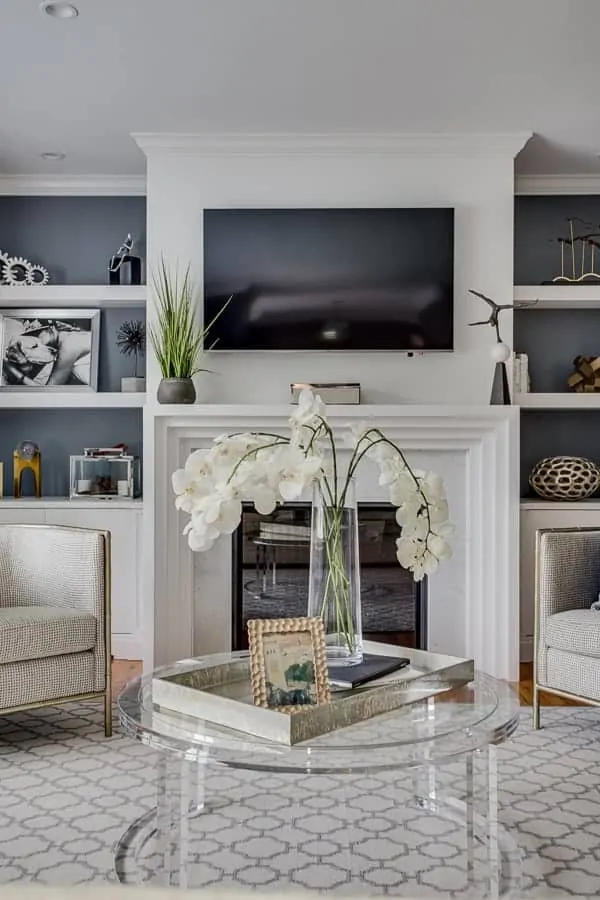 The home was 35 years old so we needed to revisit the floor plan.
You've heard the saying, good fences make good neighbors? The same rule applies to inside the home. A well designed floor plan makes for a happy family. This doesn't mean just adding walls for privacy but also opening up spaces to comfortably accommodate the increased size of new family members. We knocked down walls and reconfigured the kitchen layout so that everyone could eat together and also enjoy a view of the pool and tennis courts. The bathrooms were modernized. We redesigned and re-styled all the ceilings. The mantle designs were customized.
An Interior Designer can be an artist, inventor, advisor and an advocate from beginning of pre-construction to end of a new home build or when remodeling an existing house.
Douglaston Manor Interior Design Pre-Construction
I was hired by a client with a classic old tudor home in Douglaston Manor, Queens and asked to re-design their bedroom, living room, kitchen and dining room. One day I stopped by with fabric samples and the architect was on site with floor plans. They asked me to look at them and I saw a
3,000 sf basement. Their plan was to make a 12 x 15 media room, card room, laundry room, etc. I looked at my client and said this is not an efficient use of space. They said that I told the architect to draw up 15 functioning rooms. I said, yes, but the was this is drawn up is a poor use of space. First, if you have 1500 sf of space your media room should be 30 x 20, not 12 x 15.
My clients thought they wanted several rooms with different functions but did not understand that this was not planned or thought out well. In this case the architect took what they said, literally, and implemented it. He did not challenge their ideas or use the space properly. That is the difference an interior designer brings to a project pre-construction. This is when you avoid costly mistakes. Our vision is based on your lifestyle needs, will get you what you want.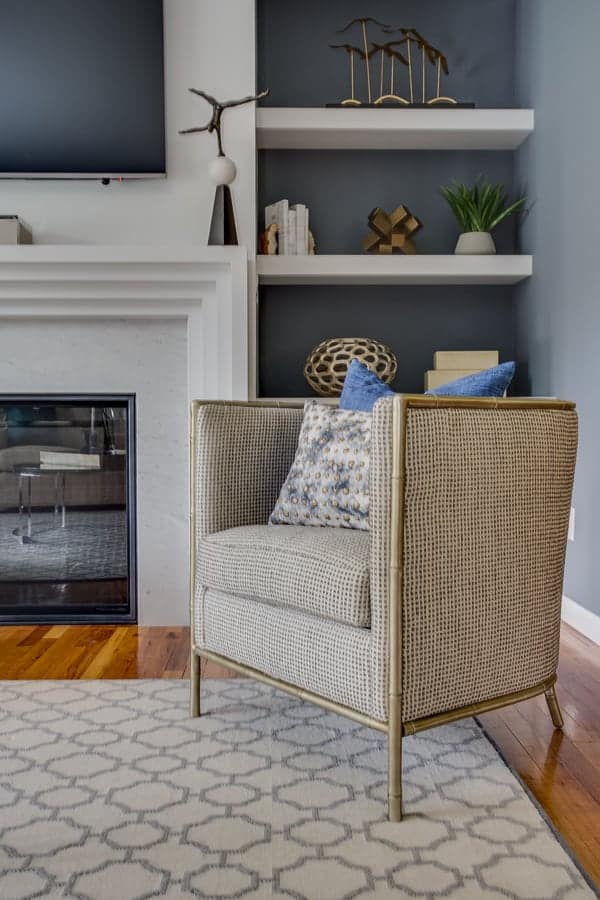 If you are starting on the journey of building or rebuilding the home you really want we will incorporate scope, vision, technical expertise, provide industry connections, trusted craftsmen and oversee all aspects to make sure you get it done right and end up with what you want and get the end product you deserve. Interior design pre-construction is a must if you want you new home to be the best it can be.
Contact Robyn for a friendly interior design consultation at: (516) 470.0861