Residential Interior Design: Bedroom Huntington, Long Island, NY
The interior design of this bedroom has a classic, romantic, timeless look. The starting point for this project was this great bold damask pattern. The damask pattern is done in a metallic and really shines in the room. This simple pillow created the whole design scheme for this bedroom. Because of the shiny metallic color in the pillow, I decided that it would be a great idea to paint all the trims in the room a metallic gold, including the crown, base and window casings.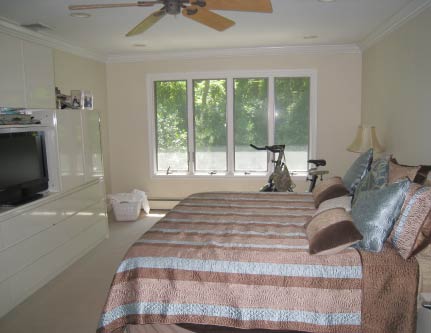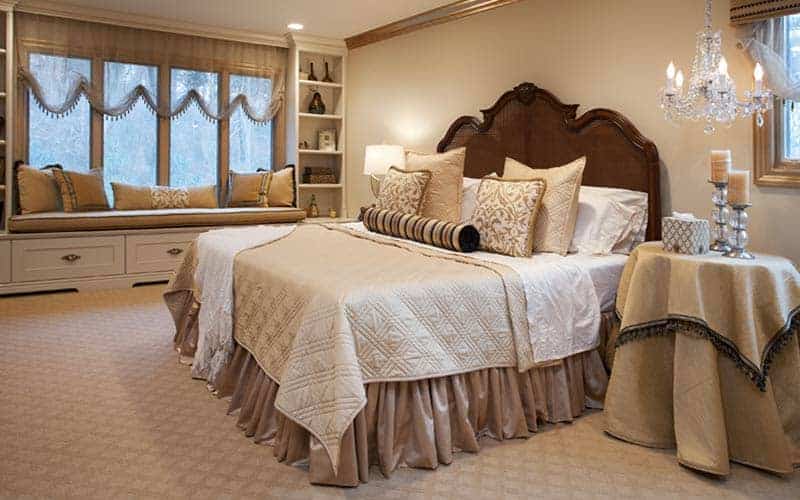 This bedroom before my interior design brought you back to the 1970's with its white mica minimalist furniture. The homeowner told me she wanted a traditional look. I had designed other rooms for her so I knew and understood her taste. While she wanted a traditional look she also expressed a desire for an "updated" traditional look with an edge.
The first order of business was to address the space. The room was long and narrow and missed the mark as it had no architectural interest. I analyzed the bedroom's need for storage and space. The closet as it existed in the bedroom did not suit the needs for the client.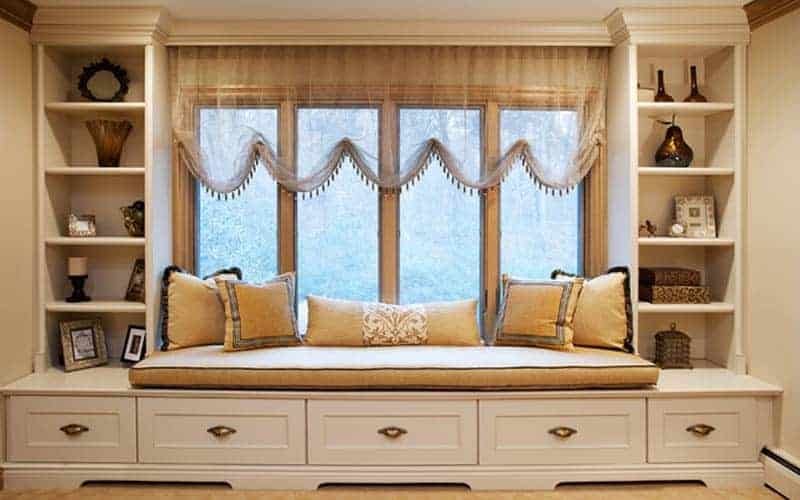 Creating the built-in window banquet solved both problems. I had my cabinet maker build a custom unit according to my specifications, measurements, designs and color selections. In doing so we created more storage for the client as well as an amazing design focal point for the room. The tunnel-effect of the long, stark room became an altogether comfortable place to read a book or enjoy the scenic view out the window. We used an open mesh grid pattern for the balloon window treatments which allowed light to flow into the bedroom and trimmed it with a decorative fringe.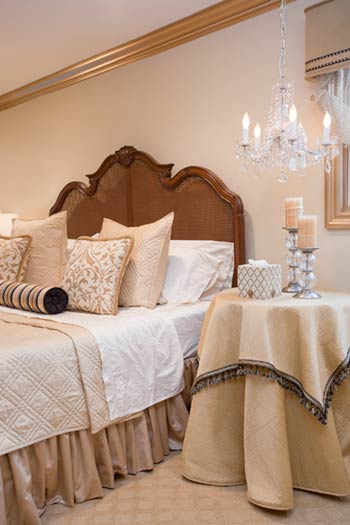 From there, the design of the bedroom evolved. We continued with the fabrics and fringe on the night table and added an elegant crystal chandelier beside the bed. I found a unique walnut and rattan headboard for the bed in one of my designer showrooms. When the project was complete we had created a bedroom that was beautiful, comfortable and functional.
It has been a pleasure working with this family. She has referred me to several of her friends and family members. It has been a wonderful experience working together. Thank you, again, Karen. I am glad you are happy with the bedroom design.
Interior Designer
Serving NYC and Long Island, NY
(631) 680.9691
Call for your complimentary interior design consultation
As an interior designer, I watch over every aspect of a design project. I work with carpenters, general contractors, architects, window treatment showrooms, upholsters, electricians, plumbers, tile suppliers and contractors and molding suppliers. I have a long-term relationship with my sources and make sure they provide my clients the highest quality workmanship as well as reliability to get the job done on schedule. I take my role seriously. As a professional interior designer, I personally take full responsibility to insure the finished product is done to my client's utmost satisfaction.
One of the best aspects to hiring an Interior Designer is that it allows my clients entrance into Designer Showrooms full of unique furnishings from around the world. Often, these designer showrooms are for the trade only and some of these design showrooms have back rooms with deep discounts. Again these designer showrooms are for the Trade only. This insures you, the client, unique and original furniture of excellent quality at reasonable prices.
Huntington, Long Island, NY
Huntington is located on the north shore of Long Island in Suffolk County, New York. Originally belonging to the Matinecock American Indians, Huntington was purchased by a group of English settlers in 1653. Huntington has five harbors bordering the north shore of the Town: Cold Spring Harbor, Lloyd Harbor, Huntington, Centerport, and Northport harbors. The area offers scenic views of the Long Island sound. There are four incorporated Villages in the Town: Northport, Asharoken, Lloyd Harbor, and Huntington Bay. In addition there are several prominent unincorporated areas in the Town including Cold Spring Harbor, Elwood, Huntington, Huntington Station, South Huntington, Melville, East Northport, Halesite, Dix Hills, Centerport, Greenlawn, and Fort Salonga.
In the 2009 census, the median income for Huntington was estimated at $106,221 and the estimated the median house or condo real estate value in was $672,208.
Huntington's best-known resident, Walt Whitman, was born in West Hills in 1819. His family moved to Brooklyn when he was a child but he returned to Long Island as a young man. At the age of 19 he founded The Long-Islander, a Huntington newspaper still in existence.
The land area of Huntington is 7.53 square miles. Huntington, NY zip code is 11743. The nearest cities are Halesite, NY, Huntington Bay, Long Island, NY, Cold Spring Harbor, Long Island, NY, Centerport, Long Island, NY, Huntington Station, LI, NY, Greenlawn, Long Island, NY. Lloyd Harbor, NY, Oyster Bay, NY, Melville, NY, Dix Hills, LI, NY and Laurel Hollow, NY.