Dining Room Design Melville Long Island NY
When I was called in on this interior design project for a home in Melville, Long Island, the homeowner conveyed to me that that she wanted to reclaim the dining room back from the kids. The look we achieved was elegant and sophisticated.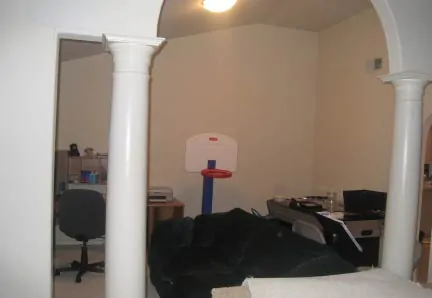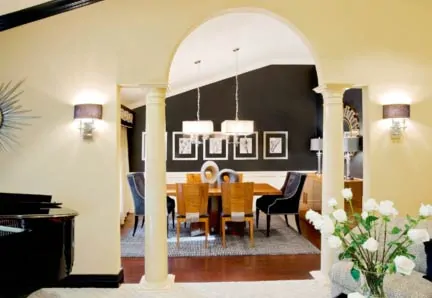 We said our good-byes to the kiddie's basketball court and got started on the interior design for the new dining room. The client expressed a desire for a sophisticated NYC Manhattan look.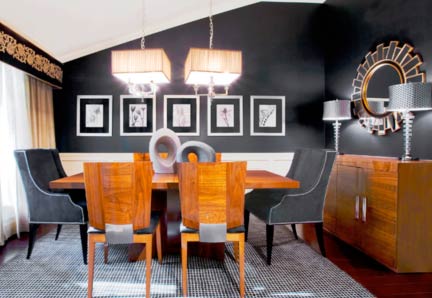 We decided upon a black color for the walls. To give the room warmth, we then used highly polished Brazilian Walnut wood for the dining room chairs, table and credenza. Instead of simply hanging one centered fixture over the table we created interest by hanging two square lights. The ceiling was arched so it created a little bit of a mounting challenge.
The style of this dining room needed artwork that would make a statement and offset the dramatic black walls. My instinct told me to use chrome frames with black & white prints. I have a wonderful resource that I use that does art consulting. This is an important resource of mine because sometimes we have a vision and you need the right professional to help implement the vision. I asked my art consultants to find me modern black & white pictures in a sequence of six pictures. Well they certainly delivered! I am so thankful for having the right resources. The correct artwork makes this room complete and elevates the whole design project to another level.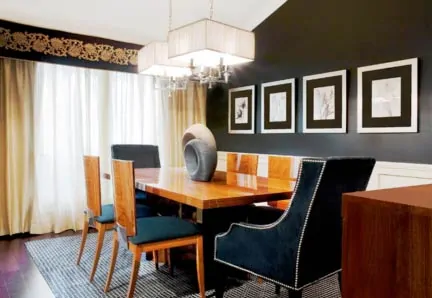 The windows in this room were dated and old. We researched having them replaced but it wasn't cost-effective. We needed a solution that fit within our budgetary restraints and solved our design dilemma. Designing on a budget often presents challenges. In some cases, we can turn a negative into a positive. With the help of my window treatment supplier, we came up with a wonderful solution. We did not want the room to look dark, so we alternated the panels and strategically placed the solid panels to cover the imperfections of the window. The Damask fabric made a great visual statement. It also added a transitional element to the room.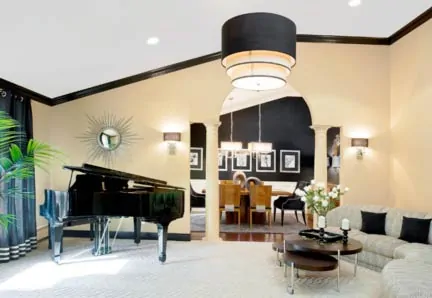 We then coordinated the décor in the dining room with the adjoining living room. It was a pleasure to work on the interior design of this lovely home in Melville, Long Island.
Interior Designer
Dining Room Design Melville Long Island NY
(631) 680.9691
Call for your complimentary interior design consultation
As an interior designer, I watch over every aspect of a design project. I work with carpenters, general contractors, architects, window treatment showrooms, upholsters, electricians, plumbers, tile suppliers and contractors and molding suppliers. I have a long-term relationship with my sources and make sure they provide my clients the highest quality workmanship as well as reliability to get the job done on schedule. I take my role seriously. As a professional interior designer, I personally take full responsibility to insure the finished product is done to my client's utmost satisfaction.
One of the best aspects to hiring an Interior Designer is that it allows my clients entrance into Designer Showrooms full of unique furnishings from around the world. Often, these designer showrooms are for the trade only and some of these design showrooms have back rooms with deep discounts. Again these designer showrooms are for the Trade only. This insures you, the client, unique and original furniture of excellent quality at reasonable prices.
Melville, Long Island, NY
Melville is a quiet hamlet in the town of Huntington in Suffolk County on Long Island, New York. It is believed that the name Melville was derived from the Latin term for honey. The area had an abundance of honeybees and was known as Sweet Hollow prior to 1854. Around the same time the town changed its name to Melville, the American Author Herman Melville was at the height of his fame after publishing Moby Dick in 1851, so it is debatably where the town's name came from.
The land area of Melville is 11.3 square miles. The surface is hilly with a high elevation of 160 feet and consists of lush green foliage and patches of luxuriant forest growth that lend the region a picturesque attractiveness. Melville has grown from a small farming community to an upper middle-class residential neighborhood on Long Island. Melville has about 4,900 homes with some 81% of the households comprised of married couples and 38% with children under 18 living with them. Half Hollow Hills Central School District serves the Melville area.
According to the 2009 census, the median income for a family living in Melville was $118,507. The 2009 census estimated the median house or condo real estate value in Melville was $725,950.
The average high temperature in Melville in July is 81.1 degrees. The average low temperature in Melville in January is 24.2 degrees. The annual precipitation in Melville is 43.0 inches.
Melville includes the zip codes 11747 and 11775. The nearest cities are South Huntington, Long Island, NY, West Hills, Long Island, NY, Wheatley Heights, Long Island, NY, Old Bethpage, LI, NY, Woodbury, LI, NY, Huntington Station, LI, NY, Dix Hills, LI, NY, and Oyster Bay, Long Island, NY.