Searching for inspiring ultra luxury high-end kitchen designs for your new kitchen or remodel in 2017?  The interior design world seems to have been taken over by Instagram photos and Pinterest pictures you can look at and copy.  Images of ultra luxury high-end kitchen designs stream past your eyes, one after another, each seem to have their own unique personality but after viewing enough kitchen designs online they all start to blend into similar design trends.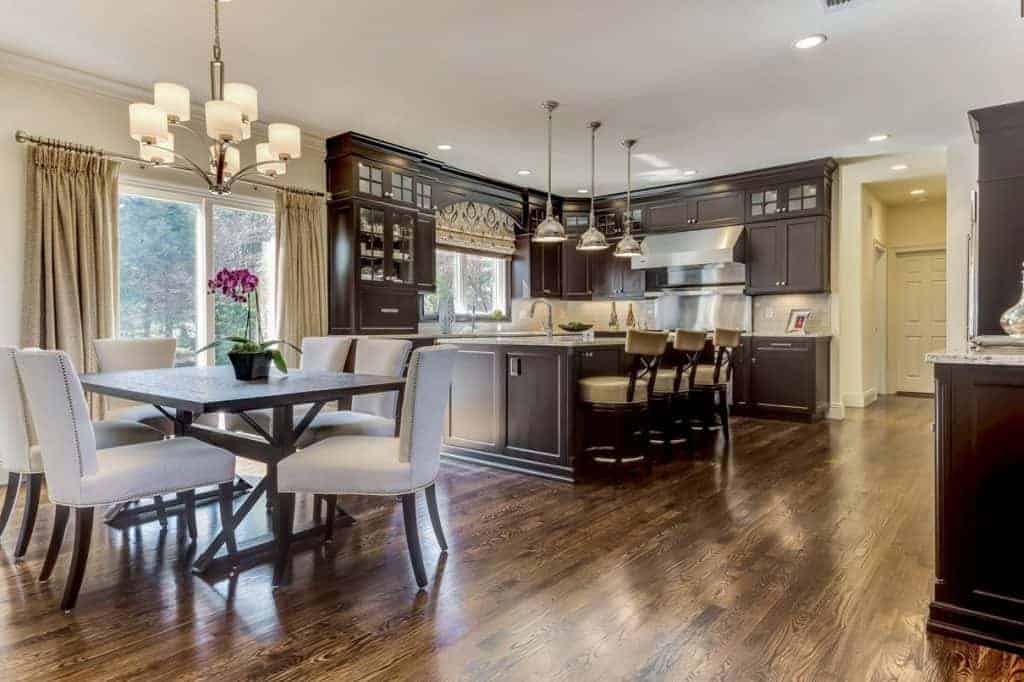 All of this remarkable over-exposure is accelerating the interior design industry while simultaneously limiting creativity.  Everyone seems to think they know what their dream kitchen will look like and can't wait to dive into a new kitchen remodel, but do you just want to regurgitate and copy the kitchen designs you see online?  What are the true measures of the epitome of luxury high-end kitchen design?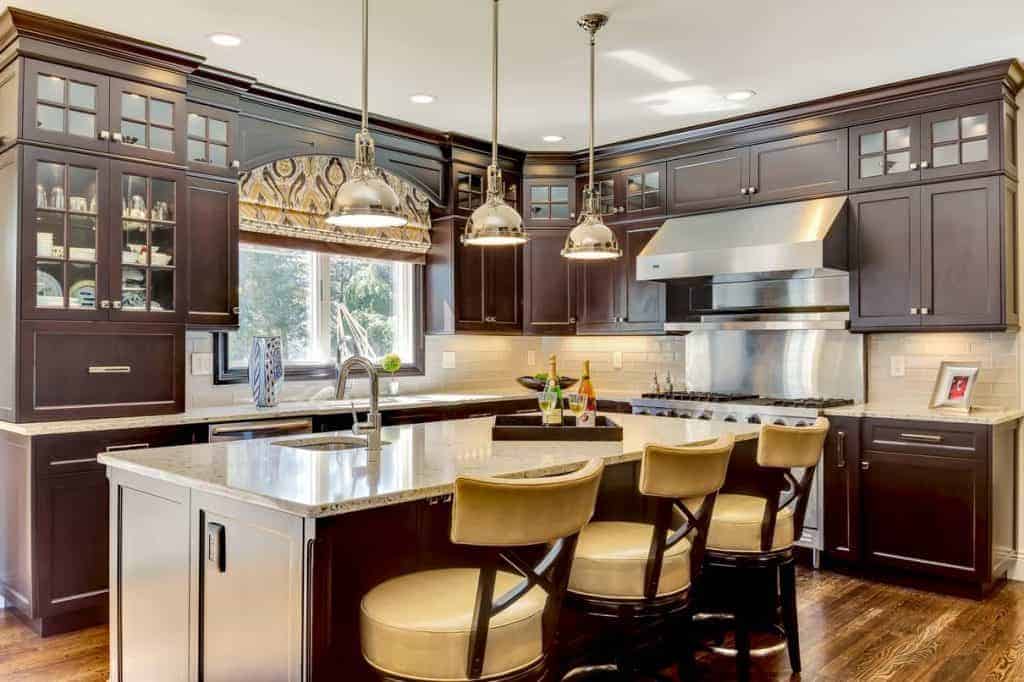 Most contemporary, upscale residential homes and estates feature an open floor plan, where the kitchen is the heart of the home and hub for entertaining.  Real estate agents and homeowners alike agree that investing money into a premium quality kitchen design increases the resale value of residential home properties.  Any high-end living space today will have an upgraded kitchen with all of the latest, greatest professional quality appliances and premium building materials.  Listed below are the ultra luxurious design details currently trending in 2017 for new kitchens, makeovers and remodels.
Custom Cabinets
Every high-end kitchen includes custom cabinets because they fit the exact needs of the sophisticated homeowner.  Discerning home owners have a unique lifestyle and designing the perfect kitchen layout with maximum use of space is a necessity to the overall success of a high-end kitchen design. Top kitchen designers specify custom milled and painted cabinets to add more storage, greater efficiency of work flow and to add splashes of color where needed.  Matching door panels are applied to cabinet ends to give a more finished and tailored look. 

The personalized options of custom kitchen cabinets are endless and are one of the best ways to take the same square footage of a typical kitchen remodel design and turn it into something exceptional and magnificent.   A gifted kitchen designer knows that extraordinary kitchen design is all in the details will thus use each and every custom cabinetry option at their disposal to create inspiring kitchens that personalize and highlight the heart of your home.  
Professional Grade Appliances
Although many people do not cook, at least at the level of a professional chef, many still want professional grade appliances in their new kitchen.  By specifying pro-grade, "commercial kitchen" type appliances from high quality manufacturers such as Viking, Gaggenau, Miele, Thermadore, Bosch, these upscale kitchen appliances are sourced down to every knob and finished detail.  
If you are looking for the most expensive kitchen range La Cornue's Grand Palais range is available in sixteen different colors of porcelain enamel, each is assembled by hand.  Made of heavy cast iron, brass burners, stainless steel top with options like a lava rock and teppanyaki grill, a La Cornue Grand Palais will cost you about $48,000.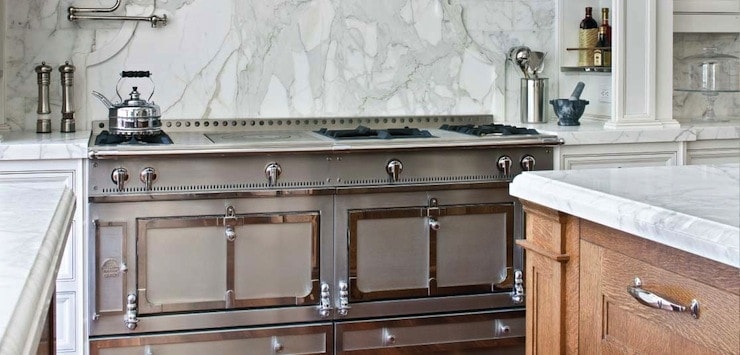 Paired with a Sub Zero or Wolf commercial grade refrigerator, temperature controlled wine coolers, bread ovens, and food warmers; each space has the beauty and functionality homeowner dream kitchens are made of.  New styles of microwaves can roll out from under counters or within the kitchen island for easy top loading heating via custom made drawer space.  
Whether you cook in your kitchen or have your own personal chef cooking for you, professional grade home kitchen appliances are a must in every upscale high-end kitchen design.
Copper Kitchen Details & Accents
Stainless steel has been trending for years, but copper is highly desired for luxury grade kitchens. Copper offers a stunningly exquisite look that is fresh and graceful with classic appeal.  Copper is more expensive than stainless steel but it is also anti-microbial which is perfect for kitchen surfaces.
Using copper in kitchens also provides unique aesthetics when aging that shows a one-of-a-kind, precious, weathered, down-to-earth, warm, home style touch. High-end kitchen appliances can even be custom encased in copper, such as refrigerators, dish washers, microwaves and even oven ranges and stove hoods.  If you are tired of the typical stainless steel kitchen design trend, using copper is a fresh look in kitchen design that might appeal to you and your family. 
Unique Kitchen Hardware
From faucets and pot fillers, to cabinet knobs and drawer pulls, unique kitchen hardware can add a special finishing touch to any high-end kitchen.  Interior designers love decorating new spaces that haven't been done, and these specialized details show a level of thoughtfulness that many designers overlook during the kitchen design process. 
Some outstanding kitchen designers have even gone as far to specify custom crafted hardware such as crystal engraved cabinet knobs and pulls to match the crystal chandelier hanging above the center island.  
Some of the highest quality and most expensive kitchen faucets are hand made by the Waterworks, an 85-year-old plumbing supply company based in Danbury, Connecticut. Waterworks offers a decorative line of fittings inspired by French Country style from the 1920s called The Julia Collection with metal finishes that include unlacquered brass, matte nickel and architectural bronze.
The most expensive faucet is the Julia Bridge Kitchen Mixer in antique brass, which costs a respectable $3,400. Unique kitchen hardware used as an artistic creative design element can result in an exquisite, unique and luxurious kitchen that stands an elegant notch above the rest.
Kitchen Countertops
The trend of luxurious, elegant Carrara marble for kitchen countertops has been vastly popular in kitchen design over the years.  While new trends are leaning towards more exotic, unique, show-stopping semi-precious stone for counter choices, the clean look of white kitchen designs is still quite desirable. However,  it is important to realize that if you want to use Carrara marble please understand that it is a porous stone and therefore susceptible to staining.  Fortunately, with the latest stone sealing products and proper care and maintenance of marble, it is still one of the most exquisite countertops used in kitchens today.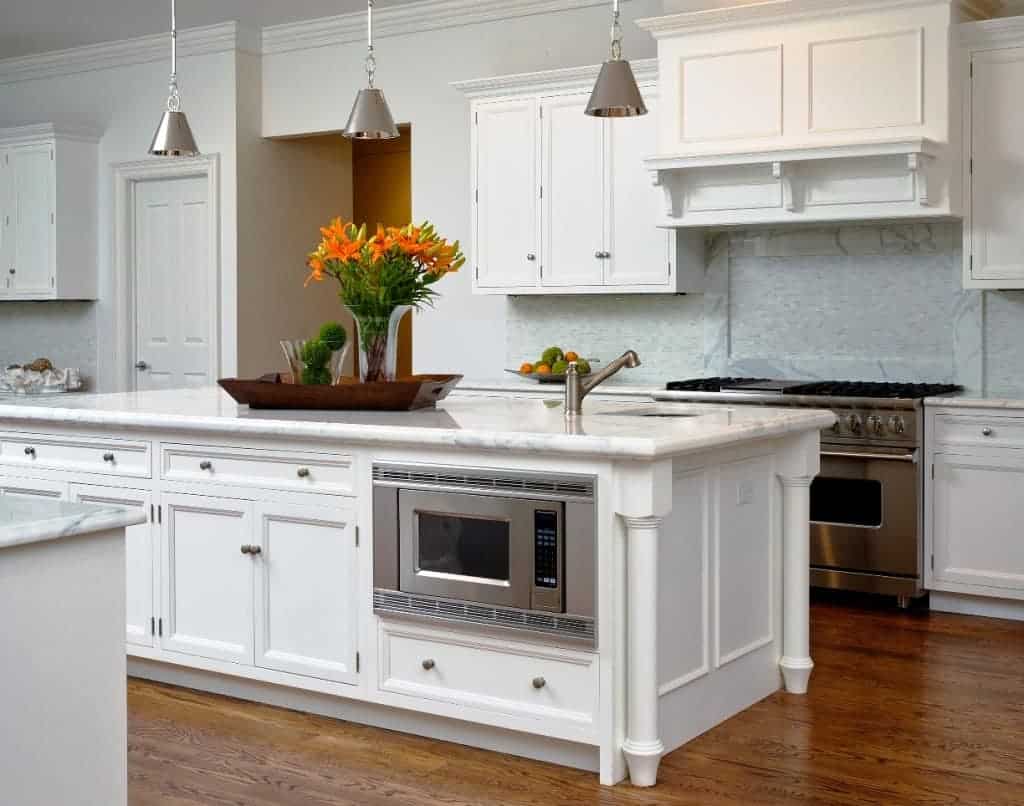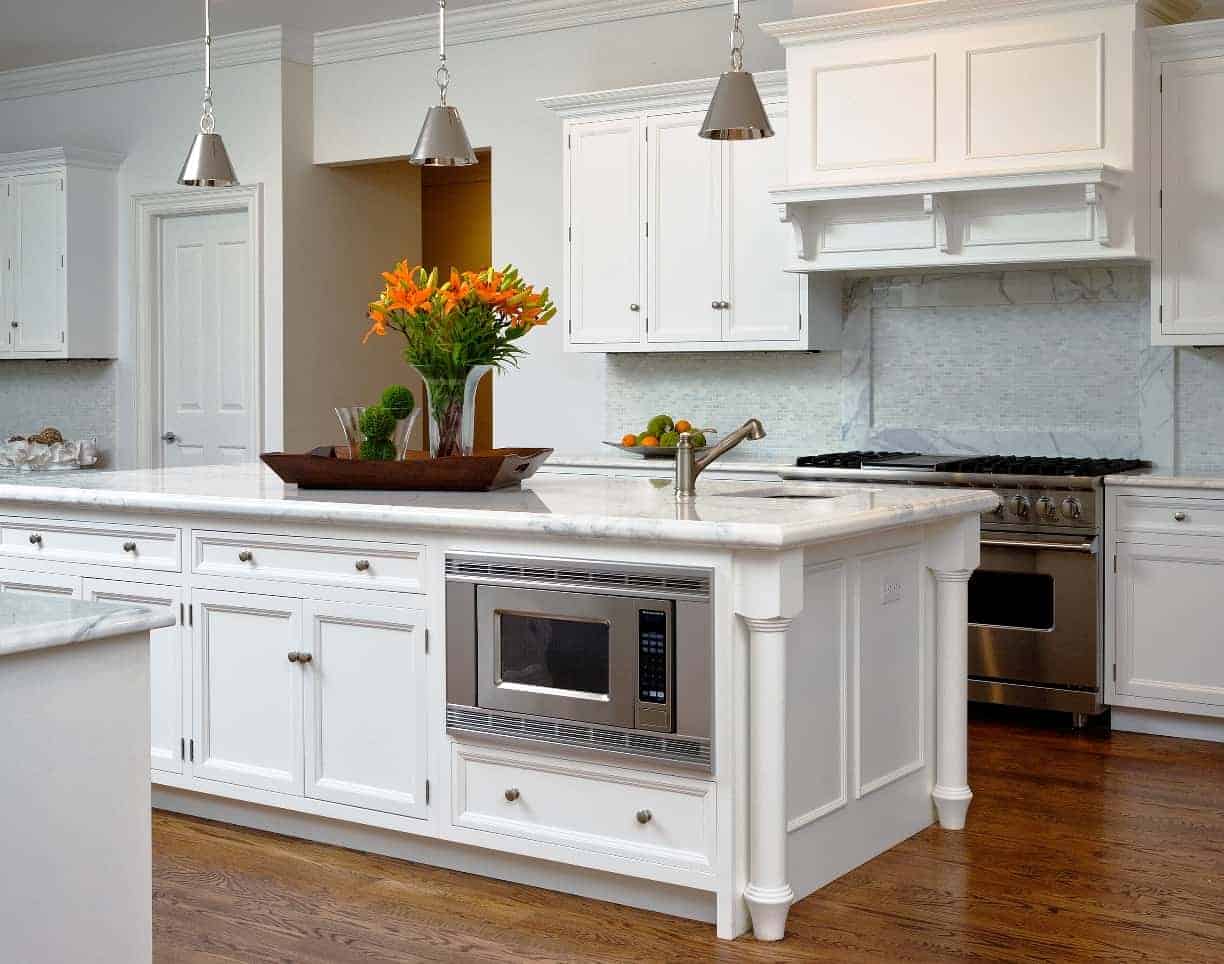 If you love the elegance of Carrara marble some excellent substitutes can be found in natural stone countertop materials that are much harder and stain-resistant.  Bianco Romano, Casa Blanca and Beola Ghiandonata granite and White Fantasy and White Princess quartz offer a very similar, luxurious look similar to white Carrara marble but are much more practical in a busy, well-used family kitchen.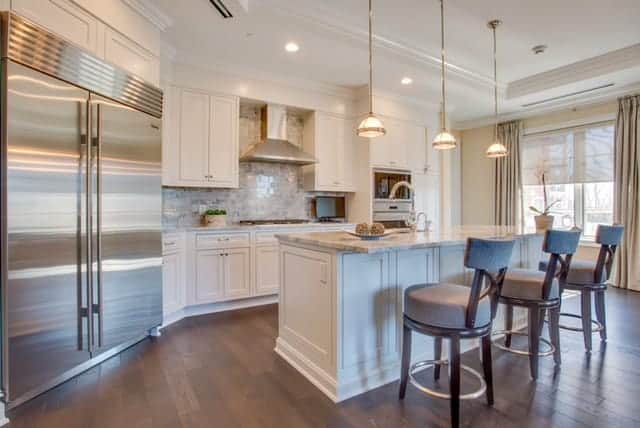 The latest trend in kitchen counter design is to pick a truly unique counter surface that will add dramatic interest to your design and create a stunning showpiece focal point.  
Some of the best interior designers are now sourcing semi precious gem stone countertops such as Onyx, Tiger Eye, Ametyst, Agate (blue, red, brown, natural), many of which are semi-transparent which allows them to be illuminated from behind for a stunning effect.   Sfumato, Viola, Brazilian Bluestone and even African Petrified Wood slabs are being used for countertops.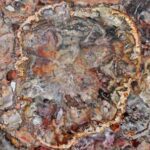 Fortunately, if you live in New York and the Long Island area, there are a few excellent sources that carry an impressive selection of the finest exotic semi-precious gemstone countertops which are imported from all over the world. Your interior designer will be able to show you the vast selection of these sources and guide you on material choices and color selections.
Perhaps the most expensive kitchen counter surface in the world is enameled lava counter tops, most commonly sourced from Pyrolave. While typical kitchen counter top surfaces can cost from $50-$100 per square foot, Pyrolave can cost up to $400 per sf. Using surfaces like Pyrolave (available in 22 enameled colors) in your kitchen design can make it one of the world's most expensive kitchens but it might also make it one of the most breathtaking and unrivaled kitchens in your neighborhood. 
Smart Home Kitchen Technology
Technology is always advancing, and today it seems as though it's intertwined into every aspect of our lives.  Smart kitchen designers know how to take full advantage of new technology to create, exciting, modern "smart" kitchens.
For example, using Phillips HUE smart LED lighting products used in a kitchen can create a vast array of unique, stunning kitchen lighting palettes and moods for cooking, entertaining dinner parties or a romantic dinner for two.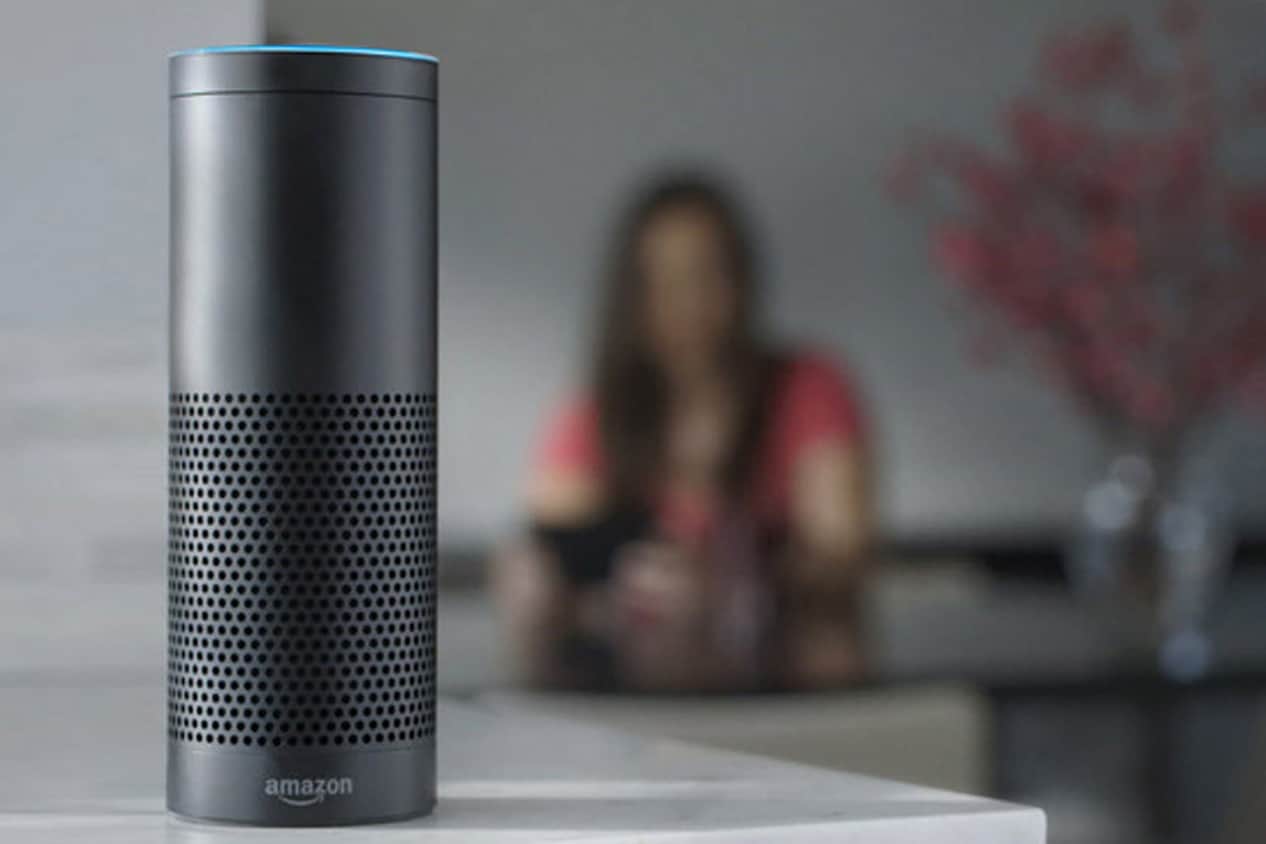 With the rise of new voice-responsive smart hubs such as the Amazon Echo, Google Home and Microsoft's Cortana, smart kitchen technology can now respond to your verbal requests without you ever lifting a finger.  Homeowners can use voice commands to not only control the lighting but also make grocery lists and even have them delivered to your door.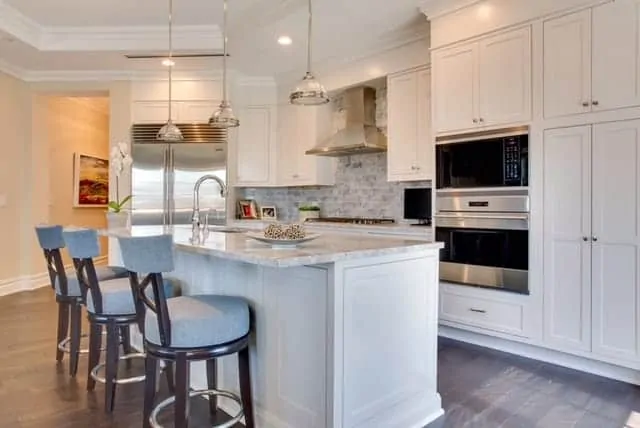 Smart kitchens can also remotely open and close the blinds, control the heat and humidity (Nest and Ecobee thermostats), monitor air quality and allergens (Nest Protect, Birdi, Awair, Cube sensors and more!).  Smart scales such as Withings and Fitbit also link to smart apps that help you eat and diet properly.  Of course, all of these devices link to smart phones for ease of use and control. Not only is cutting edge smart home kitchen technology exciting and trendy, it is also fun and functional!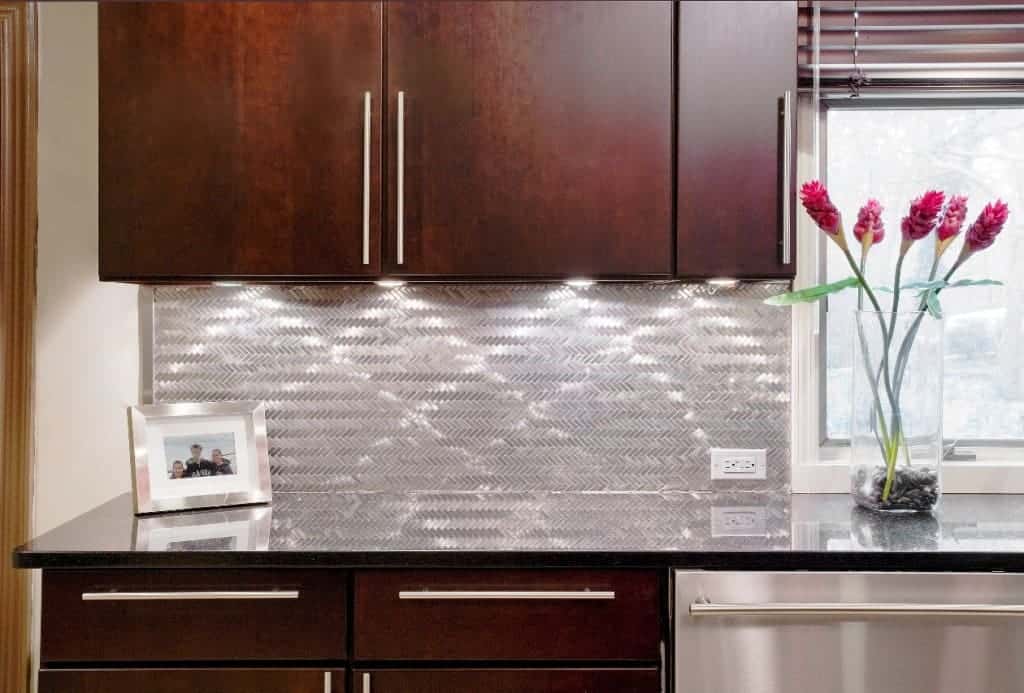 Of course we didn't even get into discussing kitchen backsplash options and kitchen floor trends for 2017.  Stay tuned for more kitchen design blog articles from Robyn Baumgarten of Interiors By Just Design LLC, one of Long Island's most respected interior designers. 
No matter what your specific design style, any of these luxury kitchen details will leave you feeling at home to love your new kitchen.  The Internet provides various inspiration sites to get the ball rolling, but it's important to choose the details with your interior designer that will make the space your own.  By following these key interior design aspects, your dream kitchen will be well on it's way to becoming the ultimate, five-star, first-class, top-of-the-line ultra luxurious heart of your home.
Click the link if you would like to see more photos of kitchens we have designed in fine homes on Long Island, NY
Click the following link if you would like to read more about kitchen design for Long Island homes.
If you read your way all the way down to here, thank you very much for reading our blog article on ultra luxury high-end kitchen designs.
Warm Regards,  Robyn B.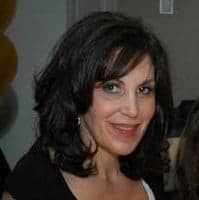 516.756.4720
Call or use the online contact form to send me a note. - Robyn B.