The interior design for this living room in Dix Hills, NY started with the understanding that the client's favorite color was red.
This is the living room décor before I set to work.  I had been working on interior designs for other rooms in this Dix Hills home for about a year and every time I walked by living room I couldn't help but think there had to be a better way to use the color red.  The client understood that bright apple red color was overwhelming the room but they loved the color.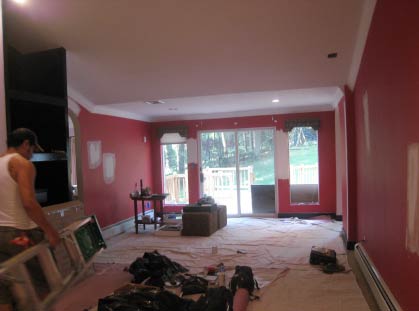 Finally they asked me to come up with an interior design for this room that was different and amazing.  I came up with an idea to paint the ceiling red.  I searched high and low until I came up with a metallic red paint I thought might work.  The client said, "Yes!" emphatically and gave me the go-ahead.
I was really happy we came up with a design plan that satisfied their love for color, their desire for something unusual, and a room that fit their personalities.  I designed several rooms for this client but the living room with the red ceiling ended up as their favorite.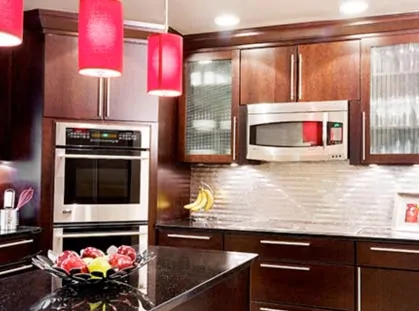 Here is a kitchen design I did for the same homeowner, once again, adding an elegant touch of red.
Interior Designer
Serving NYC and Long Island, NY
631-680-9691
Call for your complimentary interior design consultation
As an interior designer, I watch over every aspect of a design project.  I work with carpenters, general contractors, architects, window treatment showrooms, upholsters, electricians, plumbers, tile suppliers and contractors and molding suppliers.  I have a long-term relationship with my sources and make sure they provide my clients the highest quality workmanship as well as reliability to get the job done on schedule.  I take my role seriously.  As a professional interior designer, I personally take full responsibility to insure the finished product is done to my client's utmost satisfaction.
One of the best aspects to hiring an Interior Designer is that it allows my clients entrance into Designer Showrooms full of unique furnishings from around the world.   Often, these designer showrooms are for the trade only and some of these design showrooms have back rooms with deep discounts.  Again these designer showrooms are for the Trade only.  This insures you, the client, unique and original furniture of excellent quality at reasonable prices.
Dix Hills, Long Island, NY
Dix Hills is a located in the western part of Suffolk County on Long Island, New York and part of the Town of Huntington, NY. The area was named after Dick Pechagan, an Indian settler who sold the land to the Town of Huntington in May of 1700.  In 2008, Forbes Magazine named Dix Hills the 19th most affluent U.S. neighborhood.  In the 2009 census, the median income for Dix Hills was estimated at $149,264 and the estimated the median house or condo real estate value in was $708,568.  The land area of Dix Hills is 15.9 square miles.  The topography is hilly with lush green foliage and patches of luxuriant forest growth that lend the region a picturesque attractiveness.  Dix Hills has about 7,900 homes with some 91% of the households comprised of families.  Half Hollow Hills Central School District serves the Dix Hills area.  The average high temperature in Dix Hills in July is 81.1 degrees.  The average low temperature in Dix Hills in January is 24.2 degrees.  The annual precipitation in Dix Hills is 43.0 inches.  Dix Hills, NY zip code is 11746.  The nearest  cities are Deer Park, NY, South Huntington, Long Island, NY, West Hills, Long Island, NY, Wheatley Heights, Long Island, NY, Old Bethpage, LI, NY, Woodbury, LI, NY, Huntington Station, LI, NY, Melville, LI, NY, Commack, New York and Oyster Bay, Long Island, NY.