Modern, Minimalistic and on trend!
Today the world of design is all about modern and minimalistic. What comes to mind when you think of modern and minimalistic? Sleek and simple. Small delicate touches in bare rooms with sharp angles have become increasingly popular. Neutral tones paired with off whites are what you will see on the covers of many home magazines. Modern and minimalistic houses have clean lines loaded up with metals and open spaces. You may also see these houses with big windows and exposed ceiling lamps. Table and floor lamps that you may see will most likely be made of metal or wood.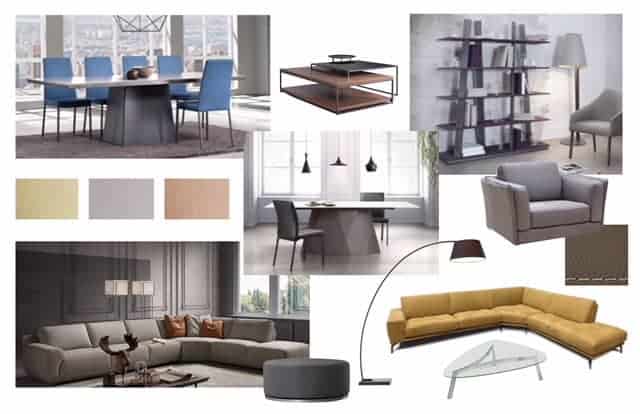 This mood board is a sample of a presentation I made for a new client in Old Brookville, NY. He is building the home from the ground up and I am pleased to say I'm part of the impressive design team he put together. This home might rival some of my best designs yet! I'm really looking forward to embracing his vision and my own love for modern design and architecture. This is a dream project from a very high profile client.
Fabric found in modern and minimalistic houses will have little to no pattern. Although these modern and minimalistic pieces lack patterns, I believe it is ok to break the rules and have some fun! I am inspired by the many fun and fresh patterns I see around me. What's wrong with a little color?
You will see tons of gold, silver and rose gold accents within this modern and minimalistic theme. These colors are not only popular in home decor, but in a lot of general products you may find in stores. You will often find these accents paired with clear glass items. The words glass and clean go hand in hand in this modern and minimalistic theme.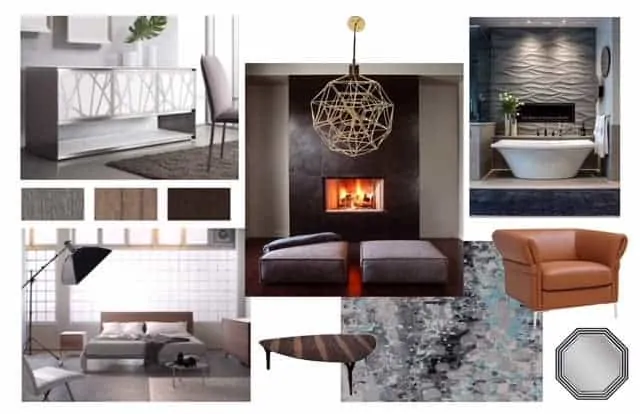 This is a second mood board my team has created. This will be presented to my client soon for his approval and thoughts. Loving the client designer interaction! This home is going to be extremely special.
What's another trend you will see? Metal! Metal everything, metal everywhere. Whether it be fridges, sinks, or even a picture frame, chances are you will see metals throughout the theme. We are loving this! Have you been keeping up with this trend? You can see all this many much more within my website! Be sure to let me know what you think!