Hello All, I'd like to welcome you to my interior design website. Throughout my time as an Interior Designer, I've completed many projects, each one still remains very close to my heart. Each project I've done represents a special client and I cherish the time I was able to spend in their lives and with their families. I truly am extremely passionate about my job and a huge part of my business is the journey I take with my clients. The end result of seeing each person's joy and happiness, knowing I helped create that joy, is incredibly fulfilling and easily my favorite aspect of interior design. It makes me smile inside to know every detail and minute spent giving my clients a unique home designed their specific needs and tastes makes it all worth it.
I've been an interior designer with my own business for almost 20 years. I graduated with a degree in interior design, prior to that, I was a designer in the fashion industry. My love and appreciation of beautiful things is something I never take for granted.
Click here to see an example of a complete home renovation project I worked on for over a year. I put a lot of love into every project I work on and every detail is well thought out. This is one project I would like to share.
I'm truly a perfectionist and my aim is to completely satisfy my clients beyond and expectations they may have had.
Let's talk! Please reach out to me and we can put a plan in place to get you to that happy place!
Thanks,
Robyn
(516) 470.0861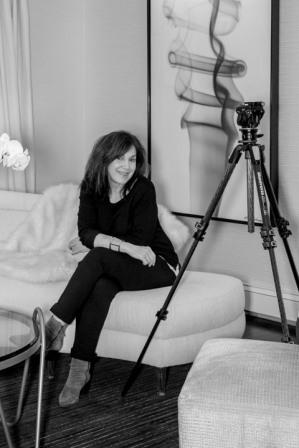 Press, Awards & Accolades
Interior Designer Robyn Baumgarten, was rated as one of the Top 100 Interior Designers in New York. As founder and CEO of Interiors by Just Design she begins with an in-depth client interview to define their needs, wants, style and budget. Her role is to coordinate all aspects of the interior design process, from concept to completion. The homeowners can relax as Robyn works with contractors and suppliers. She allocates funds wisely, avoiding costly mistakes and finding great deals and discounts.
Just Design is a full-service interior design firm providing impeccable decorating services for residential homes and commercial properties in New York. Interiors by Just Design has a team comprised of professional Architects and Contractors who are personally managed by the lead Interior Designer on the project. Based on the volume we buy and Concierge Status with our vendors, Interiors by Just Design offers their clientele the highest quality interior design services on the market.
Call for our complimentary initial phone consultation with Interior Designer Robyn Baumgarten.
(516) 470.0861
Share your dreams and I'll turn them into reality.
Our Interior Designer works in the following phases:
Interior Design Phase I
During this presentation phase, the designer works on style and concept.
Present floor plans /furniture layout
Fabric selections/options
Lighting options
Window treatment options
Flooring materials
Color schemes
Wall covering or wallpaper options
Moulding and millwork options
Interior Design Phase II
The designer will review all products and materials. Any items we may have looked at in manufacturer catalogs or photos we now examine in person. We refine your choices and make decisions.
Interior Design Phase III
During this stage, the interior designers job is to present a budget based on your decisions that we will help you prioritize. Next we obtain quotes and draft purchase orders for your review. At the conclusion of Phase III, we present a package of all materials and all paperwork needed for your records. Once prices are quoted and accepted, they are not subject to change, so we stay on budget as planned.
Interior Design Phase IV
Deliveries and installations. During this phase, the Interior Designer is present to inspect and accept (or refuse) all deliveries. The Interior Designer is also present to instruct and oversee all phases of construction and installation. This personal touch is important for proper quality control. The extra time and effort we spend to supervise all aspects of the project result in superior finishes and satisfaction.
Our interior design offices are located in Nassau and Suffolk County, Long Island, NY, and we proudly serve NYC and Westchester.