Complete Home Renovation Old Westbury Long Island
Our "before & after" pictures are finally completed and we would love to share.
This interior design project was a complete home renovation located in Old Westbury, New York .
Before

After
The complete home remodel started from the ground up. This 1960's era home was taken apart and completely rebuilt, piece by piece. The Clients hired me as the Interior Designer on the project early enough so I could seamlessly interface my ideas to achieve the highest potential of interior living space with the Architect's vision and the Contractor's pragmatism.
If you ever find yourself planning a complete home renovation project, this is the ideal way to achieve maximum results. I have been hired many times to design the interior spaces of a home AFTER the house was already rebuilt. Quite often, we find that if only a room had been built a mere two feet wider here (or narrower there), the use and function of the room would have been ideal. However, once the walls are up, we are limited and it is difficult and expensive to fix mistakes that you may not realize exist were there until you start trying to fit your furniture in a room.
In the case of this home renovation in Old Westbury, NY - the situation was ideal and the results show it! I love transforming a home and having the finished pictures give me the opportunity to share what my vision has been and in this case for well over a year. So here are some "before & after" photos of the project.
Living Room
This impressive room has jaw-dropping scope and incredible bones. From day one, the design plan was set in my mind. When I saw the blank walls and angled ceiling, I knew the room had to have a major impact. The art was our jumping off point. Check out these awesome "before & after" pictures.
High-end, elegant, classic… this five star living room is gorgeous to look at from every angle.
This upscale, posh living room is nothing short of stunning and spectacular. The room needed something phenomenal. I designed a custom wood panel molding wall to match the cabinetry in the adjoining kitchen. Then, I had a very impressive custom limestone mantle fabricated by a specialist. The rug that was selected from Kravet. The result is just absolutely gorgeous!
Entrance Way - Foyer
Our scaffolds are up in what will ultimately become an elegant, extraordinary, dramatic entrance way. My vision was to use panel molding as a sensational way to make a stylish statement. I also knew from the start that with the panel molding walls being white, we would need some color contrast. So, I chose a darker, warm stain on the hardwood floors and a dark grey/light black Kravet wallpaper for the upper hallway which is visible within the grand foyer. The effect gives depth and a magnificent volume to the room. What a phenomenal sight to see every time you walk through the front door!
Kitchen
In this open floor plan, the living room flows seamlessly into an impressive kitchen. The Dinec brand dining table and chairs that I selected for this room are graceful and classy. The mirror and artwork seen in the picture is a perfect backdrop for this great gathering place in the heart of the home. The Visual Comfort pendant lighting keep this kitchen stylish and clean.
Family Room
The art in this family room is trendy, chic and striking. It makes an outrageous statement against the neutral palette of grays which includes a plush, comfortable Vanguard sectional sofa. A pop of orange creates a stylish and sharp contrast to the neutrals in this warm and welcoming family room.
That's it for now. Hope you enjoyed looking at some before & after interior design photos from the complete home renovation in Old Westbury, Long Island by the firm of Interiors By Just Design.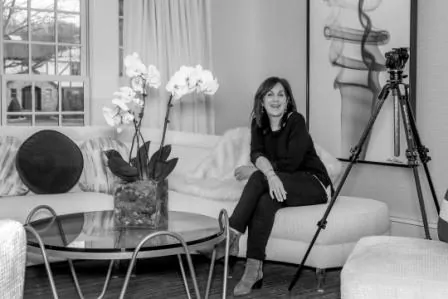 (516) 470.0861
Planning a complete home renovation project? Call Robyn for a friendly consultation before you get too far along. Working with an interior designer in tandem with your architect and builder results helps your home interior design vision achieve its highest potential.