Impressive Home Entry Sets the Tone of a Home
Entryway interior design is one of my favorite spaces to design in a home. The front entrance foyer is the gateway to your home. The entryway sets the tone, and reflects the style of your home. It's your golden opportunity to give visitors on the way in and the way out a first and lasting impression. After a hard day's work, there is nothing more satisfying than to walk through your front door into the beauty and comfort of a well designed home.
Below you'll find several pictures of one of my favorite entryway designs including transformations from before to after.
The striking stairway is the center piece of the entrance of this home. As one looks from a few feet in front of the stairs the architectural layout is clearly balanced. On the second floor, are family pictures that add a warm, personal touch. At the base of the stairs is a strategically placed decorative table and chair. Not only does this compliment the design, it also adds a handy place to sit when the need arises.
The next set of before & after photos shows you the stark contrast of a remodeled entryway. Which foyer would you prefer to walk into after a hard day at work?
Here are more "AFTER" interior design photos of the same home's entryway from two other views.
The window over the front door is magnificent and lets in lots of natural day light. The crystal chandelier we selected has a tree leaf design that is dazzling when lit, yet gives an organic, natural feel. The vaulted foyer ceiling makes the home feel larger and luxurious. The sitting area by the front door offers a comfortable place to remove shoes before stepping further into this luxurious Long Island home.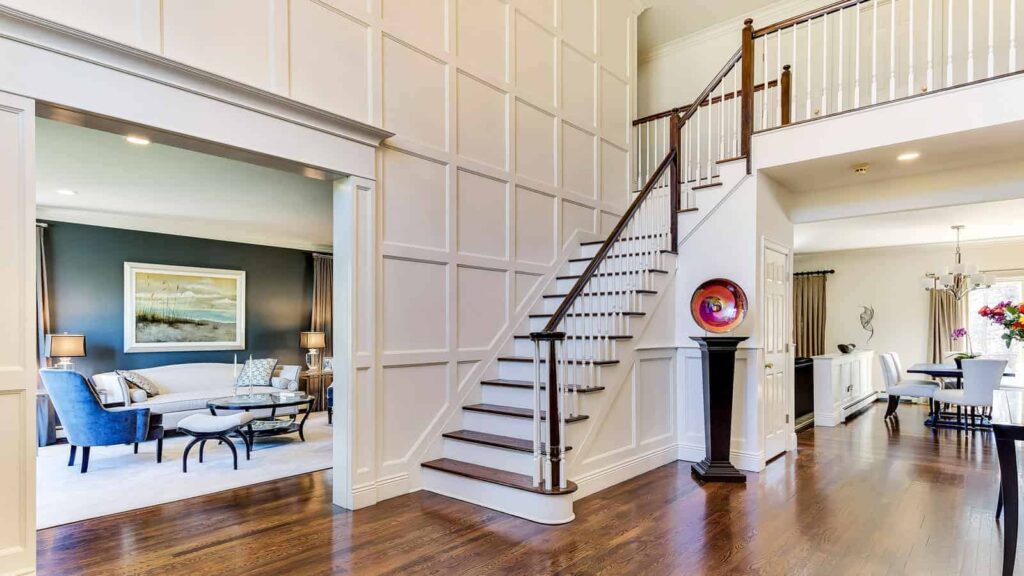 Custom crafted panel moulding creates texture and interest in large blank wall spaces. Dark colored finishes for hardwood floors are extremely stylish and dramatic. I felt a slightly muted expresso stain would lend itself perfectly for this particular layout. Along the stairways the banisters have the same finish trim which accentuates a bold look. As you go up the staircase there is a white paneling that continues to the ceiling giving an appeal of natural flow. Homeowners spend significant going up and down time stairs and I feel whatever one can add to, without overstating the case will heighten its appeal. The ceramic art gives the room a whimsical color pop while the pedestal it sits on emotes a sturdy, craftsman-style feel. A wide open frame into the elegant, formal living room offers a soothing blue contrast color that invites one to sit, relax and talk.
Condo, Townhome, Apartment Entryway Design
Regardless of the dimensions, and shape of your foyer entrance, it is important that the design reflect your personality, whether it is fun or breezy, stately and dignified, this is your grand gesture. We've done interior design projects in many condos, townhomes and apartments that had limited size entryways. This is where creativity is most important.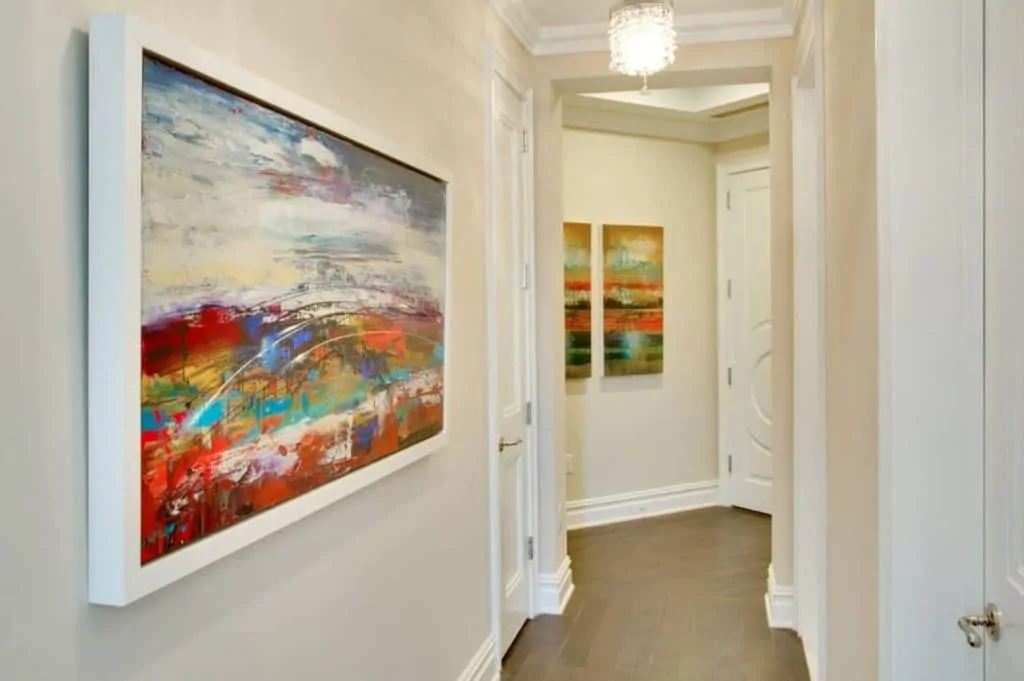 Certain color palette schemes and well selected and positioned art can create an impressive entryway in almost any condo, villa, townhome, coop or apartment. This condo is located in the luxurious Ritz-Carlton North Hills, Manhasset NY. Notice how the art and colors make this hallway feels open and inviting.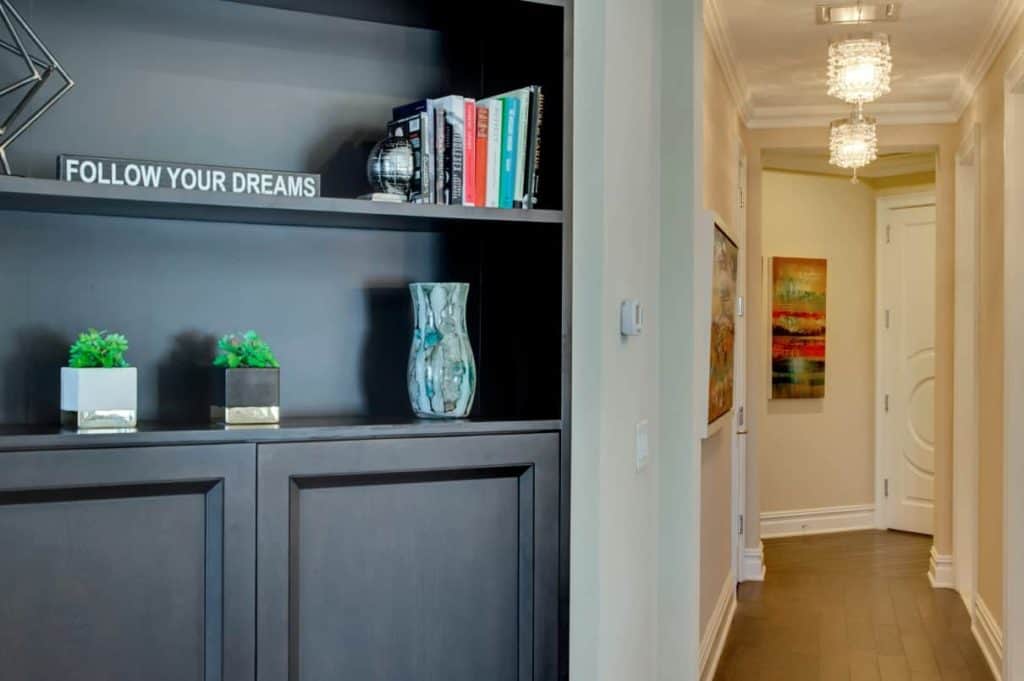 When possible, add a comfortable chair or sitting bench near the front door of an entryway. Your guest will appreciate it, especially the elderly. Foyer seating also provides a great place to sit and enjoy your art. The photos below are from an interior design project we did in the condo / townhome complex Country Pointe, Plainview NY.
Entryway design for condos, apartments and townhomes can be a challenge, but with proper planning and measuring you can fit exactly what you need in smaller spaces. A mirror in an entryway is very useful, but mirrors don't need to have utilitarian square angles. Entryway mirrors can be a creative forms of expression.
Entryway credenzas and seating for two is always welcome near a home's front entrance. Credenza's in foyer's don't have to be the boring rectangles they once were. As long as there is a handy place to put keys, mail or a package when you enter your home, a entryway table can be as creative as you desire.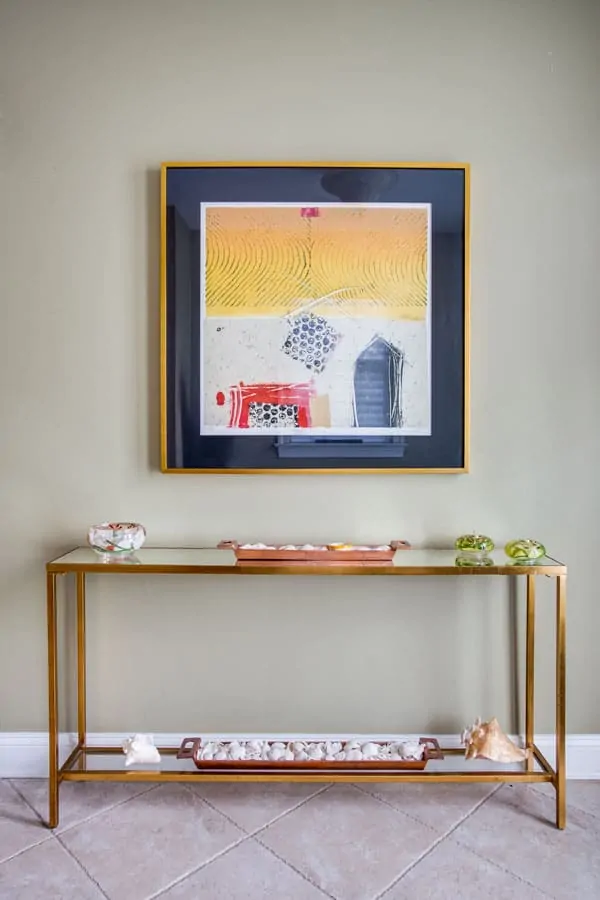 Robyn Baumgarten of Interiors By Just Design is considered one of the top interior designers on Long Island. Click here to contact Robyn online, or call her for a friendly consultation:
(516) 470-0861