Upscale Tech Office Design
Over the years, I have been approached by a large array of high end interior design clients on Long Island, from residential homes to doctors' offices and commercial buildings, all looking for an upscale and impressive interior office design. Most recently, my team and I had the opportunity to work on an upscale tech office design that we were incredibly excited to be a part of. As an interior designer on Long Island for over 15 years, I've seen the interior design industry advance simultaneously with the technology boom, which leads to fun new design concepts as we saw with this project.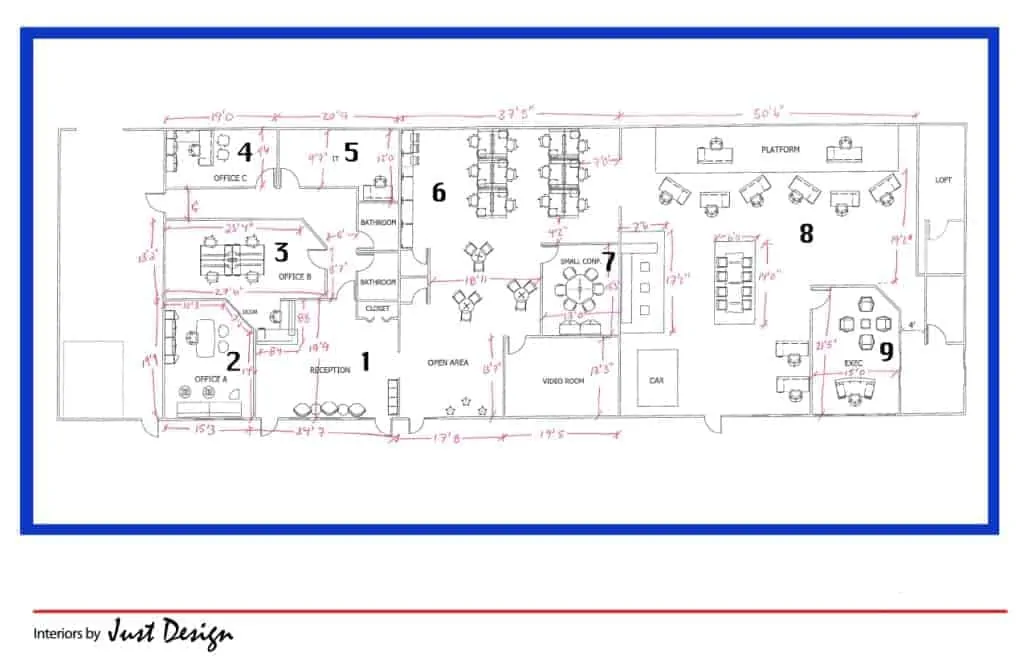 Upon meeting with the client, it was quickly established that this was going to be a one of a kind upscale office design like nothing my interior design team and I had previously worked on. This young, up and coming Tech Company was very focused on keeping the office environment laid back and trendy, while still remaining a business space. It became apparent that traditional floor plans and seating arrangements would not be applicable for this interior design job, and we hit the ground running with innovative ideas and interior design concepts. We decided to use video games and comic books as the base concept for the design as these are the primary hobbies and interests of the employees and also the consumers for this company.
All of the doors throughout the office are tech savvy motorized sliding doors that allow access from space to space via arcade buttons that control the open and close features. A mixture of combined work areas and casual meeting areas are strewn throughout, giving employees choices on which areas make for a more comfortable environment to get their work done. By using a mixture of commercial grade faux wood floor tiles, and AstroTurf on the floor in the open work areas, along with industrial metal, and sleek surfaces, a forward thinking and creative high end interior design was created. A playful graffiti wall is featured at the center of the space that can be looked upon from the glass enclosed luxury executive offices adjacent.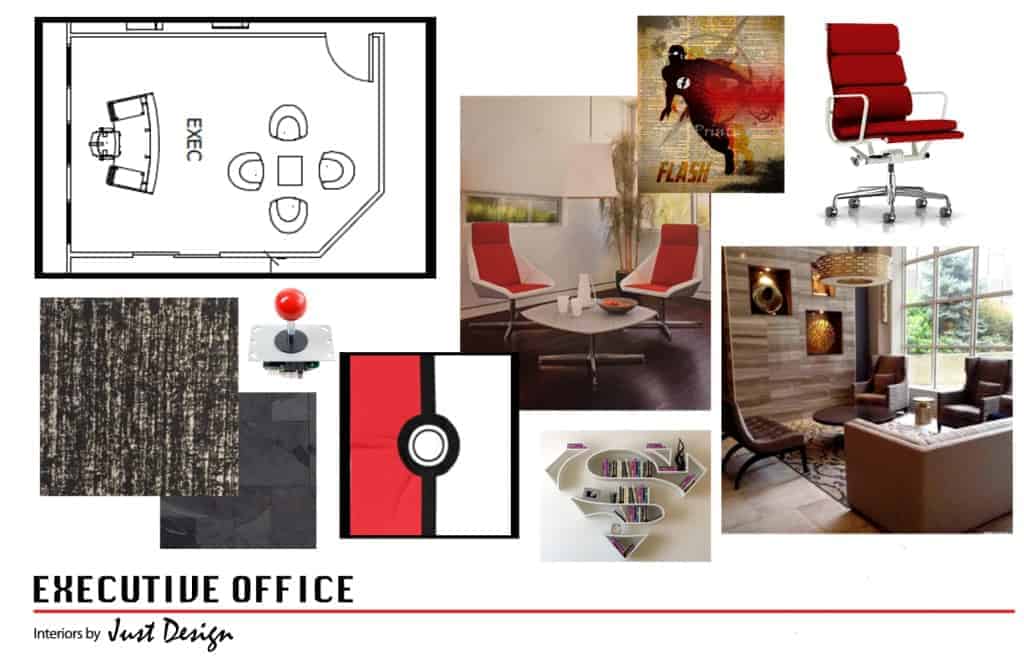 Playful interior design details are included in each area, my favorite being a full height bubble wall backlit with colored lighting. The executive customer service office is a high end contemporary space featuring luxury furniture and finishes, such as an antique mirrored chandelier that coordinates with a Wonder Woman themed open customer service area. The executive office was created with the owner of the company in mind featuring a Superman book shelf, stone accent wall, and sliding Pokemon ball inspired doors that open onto a zen garden. Using pop art inspired superhero artwork throughout the entire upscale design was a subtle and fun way to add color to an otherwise clean and primarily neutral space.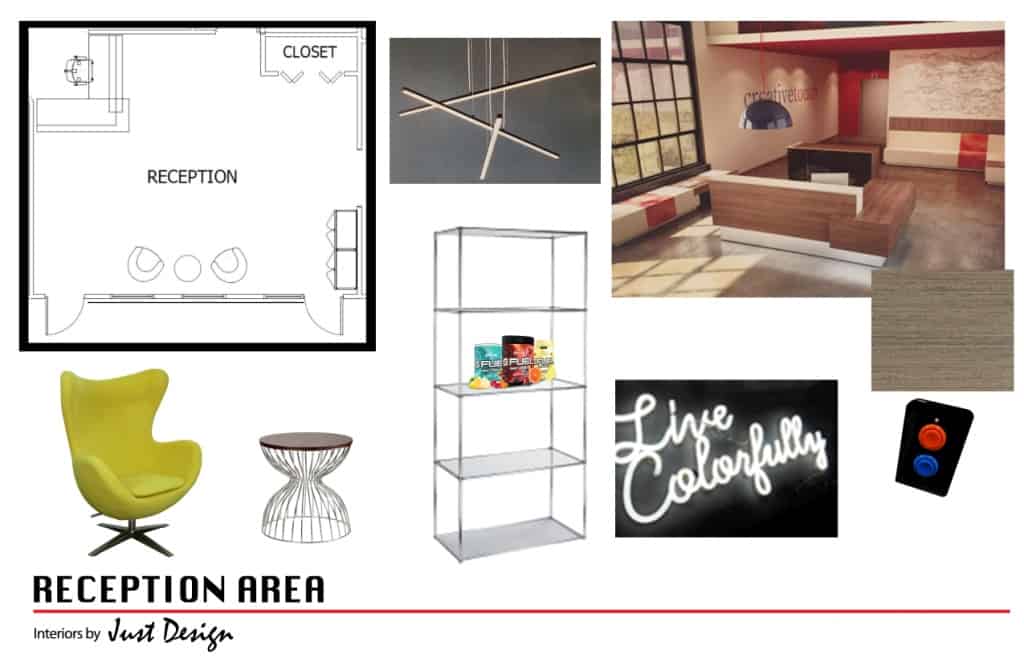 Taking on this project with my Interiors by Just Design team has been an exciting new venture into upscale commercial design on Long Island. Interior design is a broad field, and it's exciting to explore every angle! Keeping employees and clients impressed with a trendy and functionally design space is crucial to maintaining a successful business. If you have an upcoming project on Long Island, let's chat and see what personalized design we can create for your home!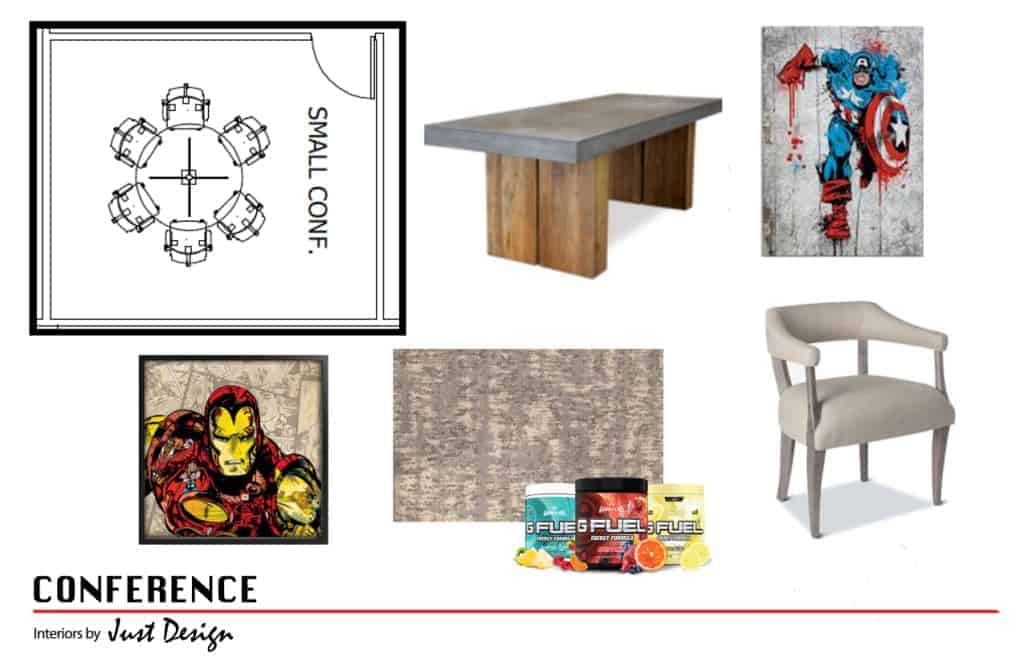 Commercial or home office spaces can be unique and a rewarding, inspirational environment to work in, enjoy and prosper. Creating your perfect work space doesn't have to be stressful! You can trust in the fact that Robyn has years of hands on experience as a NYC and Long Island interior designer and will get the job done right. As our client, you will know that you are getting a design that is specifically tailored to you, your personality and design needs. Get ready to transform your office into a creative workplace of your dreams!
(516) 470.0861