House renovations can often times be overwhelming to clients and designers alike. Hundreds of decisions need to be made throughout each project, on a strict timeline given by the contractors. From structural details like hardwood flooring to decorative final touches like what kind of stair runner might best cover those beautiful wood floors on a staircase, the choices can be daunting.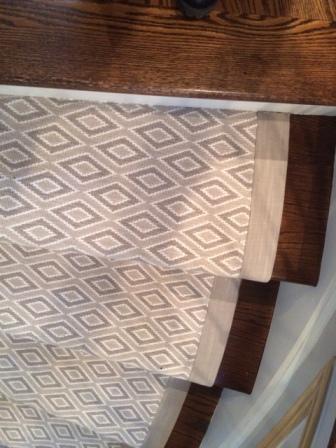 As an interior designer, it is my job to do the ground work for the project, sort through the options using my experience and knowledge in the field, and present the best solutions for the overall design to the homeowner. I'm here to keep you on track and on budget while making absolutely sure that no detail is overlooked. One thing I never let my clients forget about is finalizing their staircase steps with a custom stair runner.
After weeks of decision making and floor construction, you may not think adding carpeting to your steps is preferable or necessary. This is a common misconception! Stair runners are not only aesthetically pleasing, but they also serve as a safety precaution. That's why I've listed my top 6 reasons why clients need a stair runner as part of their design:
1. First Impression
It's said you only get one first impression, so you have to get it right! If you own a 2-story home, steps are typically the focal point of most foyers and the first and last thing you see upon entering a home. Since there is seldom much furniture in a foyer, this is your chance to make a show stopping impression with your staircase.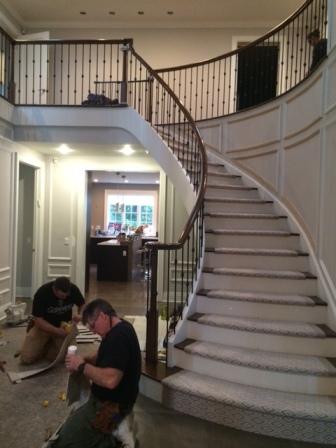 2. Safety
The safety of you and your family is the main priority when installing a custom stair runner. Newly finished hardwood floors can be slippery and it is very easy to fall and become injured. Applying carpeting on the steps prevents accidents from happening from the start. You don't want to wait until there is a problem to address this safety issue!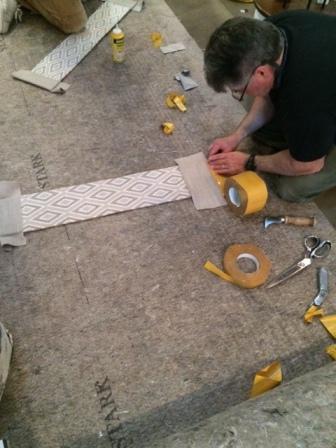 3. Acoustics
Ever walk into a home with a lovely, grand foyer and hear the cold, harsh sounds of noise bouncing off hard surfaces of walls, floors and ceilings? This is especially true when you have a tile entrance or hardwood floors. The high ceilings of a foyer can create an echo chamber and acoustical nightmare. Heaven help you if you also have a dog barking too as you welcome your guests into your home. Yikes! Padded stair runners will absorb and dampen the noise level in your entryway, making your home both aesthetically and acoustically pleasing to visit and live in. They will also help you walk up and down your stairs comfortably and quietly when others might be sleeping.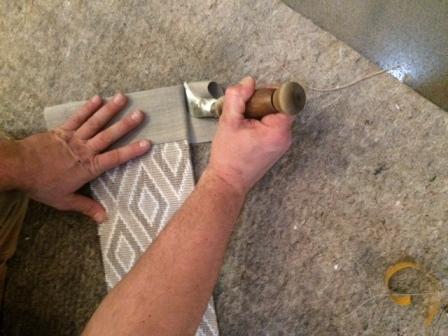 4. Customization
The custom options for stair runners are endless, from choosing pattern and color, to how the edges are finished. You are able to create a design personalized exactly to your taste. This allows you to have the flexibility to select a style and determine the precise layout of the design. You will love every inch of what you choose knowing that it is specially made just for you.
5. Investment
Stair runners are a great long term investment for your home. If quality materials are sourced, the lifespan of the product is unbelievable and will be long lasting. Adding a personalized detail that promotes safety for you and your guests is invaluable! You will have the peace of mind knowing you put your money into something worthwhile.
6. Finishing Touch
The difference between a partially designed space, and a completed space are the finishing details. Interior Designers have the education and eye to know when to add more details to a project that a client may not have even noticed was missing.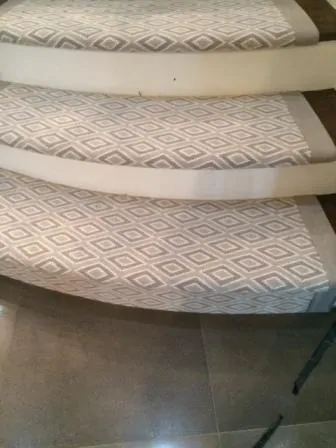 Adding a stair runner to a foyer is like adding jewelry to a ball gown, it is the detail that pulls the entire design together.
If you would like to discuss stair runners for your home or other interior design needs, please call (516) 470.0861 for a friendly, complementary consultation.
Warm Regards,
Robyn B.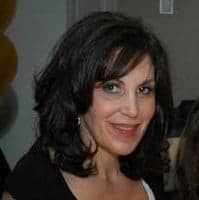 (516) 470.0861
Call or use the online contact form to send me a note. - Robyn B.
The carpet provided for the stair runners in this home interior design project was provided by Stark Carpets, New York, NY.