Old Meets New In This Multiroom
Written by Tammy Scileppi from the Long Island Press we are excited to be featured as an "Inside Job" showcasing our most recent design project in Oyster Bay "Old Meets New In This Multiroom".
Article transcribed below:
A yearning for fresh air and the tranquility and laid-back lifestyle of charming Oyster Bay brought newlywed city dwellers looking for a home where they could entertain family and friends to Glen Head/Old Brookville.
But unlike most locals, Aline and Kevin have been splitting their time between their newly purchased and recently updated 8,000-square-foot abode and their Williamsburg, Brooklyn digs, where they spend weekends enjoying big city activities.
Most homeowners would feel overwhelmed taking on a multiroom renovation in a house that size- especially with 35-foot-high ceilings and massive expanses in the main living areas - but the couple dove right in with the help of talented design pro Robyn Baumgarten, owner of Interiors by Just Design. She worked closely with her clients to turn their individual ideas into a reality by transforming an older mismatched eclectic house (with huge rooms) into the modern dream home they longed for.
"This is your home," goes Baumgarten's mantra. "I want it to be all about you and what you love!"
At first glance the house appeared to be move-in ready, purchased with the previous homeowner's traditional furnishings as part of the package. But Aline didn't share the same design aesthetic. For starters, the Persian rugs didn't jibe with that modern, classic look she and her designer wanted.
"My clients had differing opinions on how they wanted their home to look," says Baumgarten, whose design focus was on the grand living room, family room and first-floor master bedroom. "Together, we took Kevin's desire to turn the existing fireplaces into focal walls, and his passion for art then combined that with Aline's desire for this house to feel like a home."
Since phase one of design is always conceptual, Baumgarten first presented her vision for the focal walls then brought her millworker into the project. They decided to go with separate plans for each wall that were similar in their modern simplicity but different in their varying materials and execution.
"While construction was taking place, Aline and I hit the ground running with out design ideas,: says Baumgarten, who always works on a room from the floor up and usually sources and shops for a rug with her clients as one of their initial meetings. "This way, they pick our a rug style that defines their personality and then I continued to build the room around it."
Their hunt for new rugs took them to Stark Carpet, where they chose two that had unique tone-on-tone geometric patterns that would surely spruce up both the living and family spaces.
After completing those common areas, Baumgarten and her team moved their design focus to the first-floor master bedroom.
"Like all good husbands, Kevin let his wife take direction on the design here," says Baumgarten. "Being from Brazil, Aline loves color and lilac is her favorite."
So they ran with it.
For the perfect finishing touch in the boudoir, the designer chose a beautiful piece by local artist Anahi DeCanio.
"I am a big believer in details, artwork being a large focues in all my projects," says Baumgarten, whose inspiration for the space echoed Kevin's passion for collecting and customizing great pieces of art. "As it turned out, this reno went smoothly and was a win-win for everyone. And more importantly, we had a lot of fun together."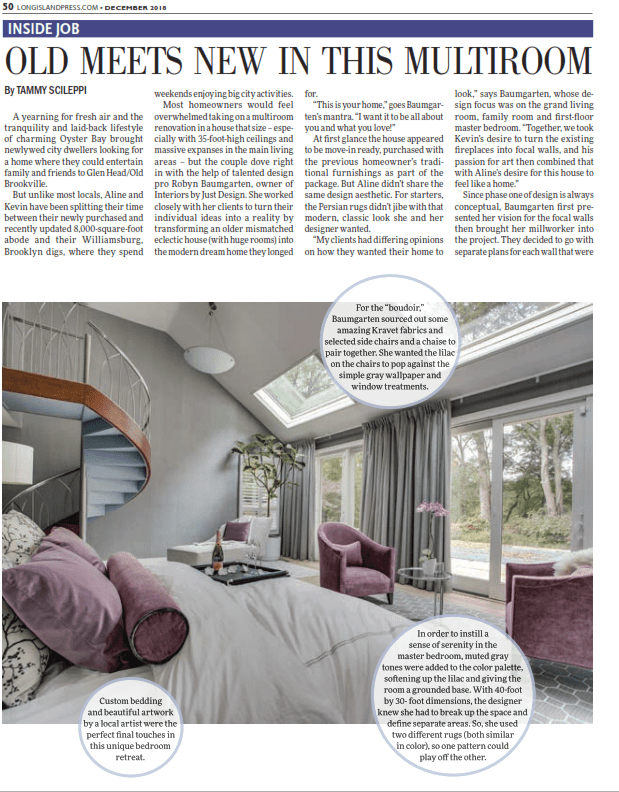 Image Captions:
For the "boudoir," Baumgarten sourced out some amazing Kravet fabrics and selected side chairs and a chaise to pair together. She wanted the lilac on the chairs to pop against the simple gray wallpaper and window treatments.
Custom bedding and beautiful artwork by a local artist were the perfect final touches in this unique bedroom retreat.
In order to instill a sense of serenity in the master bedroom, muted gray tones were added to the color palette, softening up the lilac and giving the room a grounded base. With 40-foot by 30-foot dimensions, the designer knew she had to break up the space and define separate areas. So, she used two different rugs (both similar in color), so one pattern could play off the other.
The more formal living room was completely transformed when dark mahogany wood panels (48-inch squares) with a distinct grain were used on the fireplace, adding depth, balance and height to the already large-scale ceilings. The stain, in an ebony tone, matched the existing dining room table (from Swaine) and newly purchased Baker furniture.
To make a statement in the family room, Baumgarten sourced 24-inch by 12-inch custom porcelain tiles for the fireplace wall, which added definition.
For the new Swaine sofa the designer outsourced and customized fabric from Kravet - a performance velvet in a beautiful cobalt blue tone. The jolt of color was just what the boring beige family room needed.
The design pro and her clients joined forces and created beautiful (fireplace) focal walls for both the 35-foot by 60-foot living room and 30-foot by 40-foot family room.
A simple black metal surround on each now modern fireplace contrasts with the new materials.
For that space, the clients chose a brass and wood cocktail table from Vanguard, and armchairs from Lazar that boasted custom upholstery and finish options. Baumgarten kept that fabric simple to showcase the blue sofa and allow the fireplace wall to take center stage. The custom faux finish on the wall creates a subtle feel of movement.