Hamptons Interior Designer
Hello, my name is Robyn Baumgarten and I am thrilled to be considered a top Hamptons Interior Designer. Please view my portfolio of interior design HERE.
Here is a home that we just completed in the Hamptons. Would love to share some pictures and stories about the process.

To start off this stark rug was the main inspiration for this living room. It is all about the details. If you look closely at the fabric window treatments, they are boarded with an amazing Kravet trim. The custom Bernhardt sofa is trimmed in a contrasting blue welt which plays off the simple yet classic pillows. The lucite cocktail table keeps the neutral transitional palette of the room simple. The John Richard lamps add architectural interest while keeping the simple and classic lines of this room always in style.
My signature style has always been investing in timeless and classic pieces. It is always great to have fun with the latest fabrics and create ambiance and style through updated rugs or accessories. This marble splattered rug that I sourced through Stark is current, fresh, new and makes a statement when you enter the home.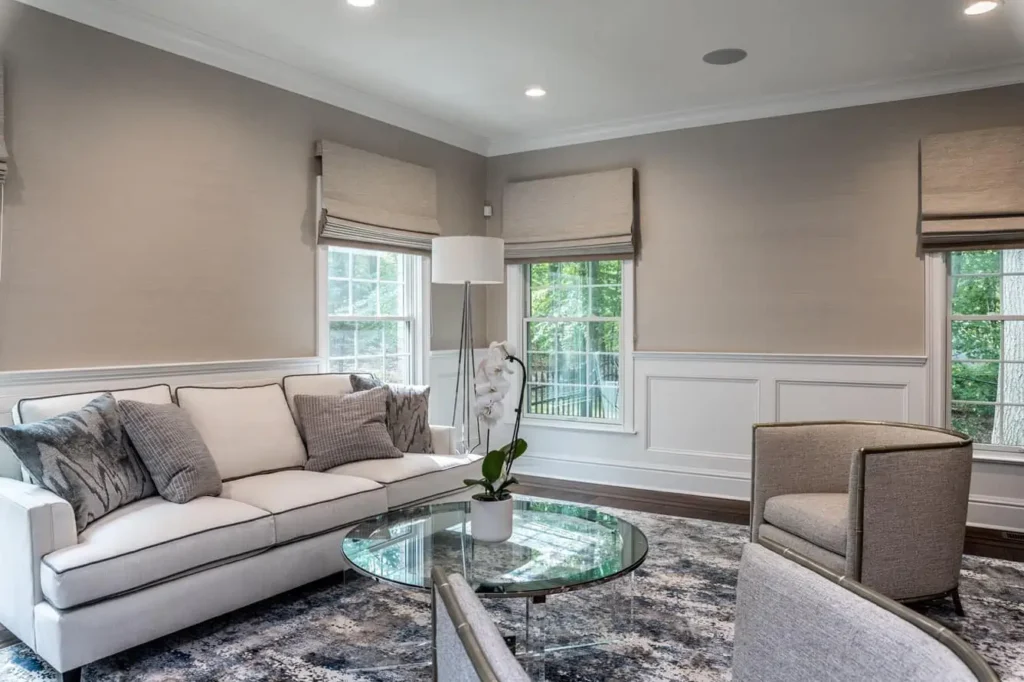 The big surprise about this picture is that these tables on the sides were sourced through my private label vendor priced under $1,000. When you hire an interior designer part of the process is knowing where to spend the money and how to find some great unexpected pieces that don't break the bank. The perfectly scaled chairs with custom trim add dimension and style to this simple yet elegant room.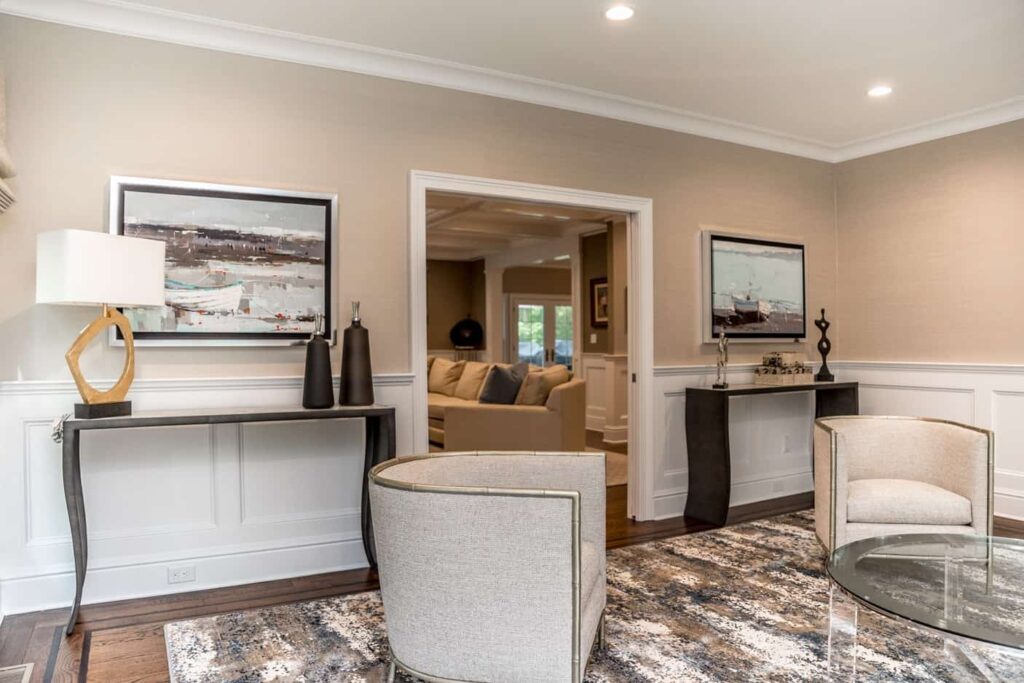 I cannot state enough how important the right size art and accessories are for a home. Taking a neutral, transitional, classic palette and adding simple, understated and amazing furnishings, accessories and artwork bring the room to life.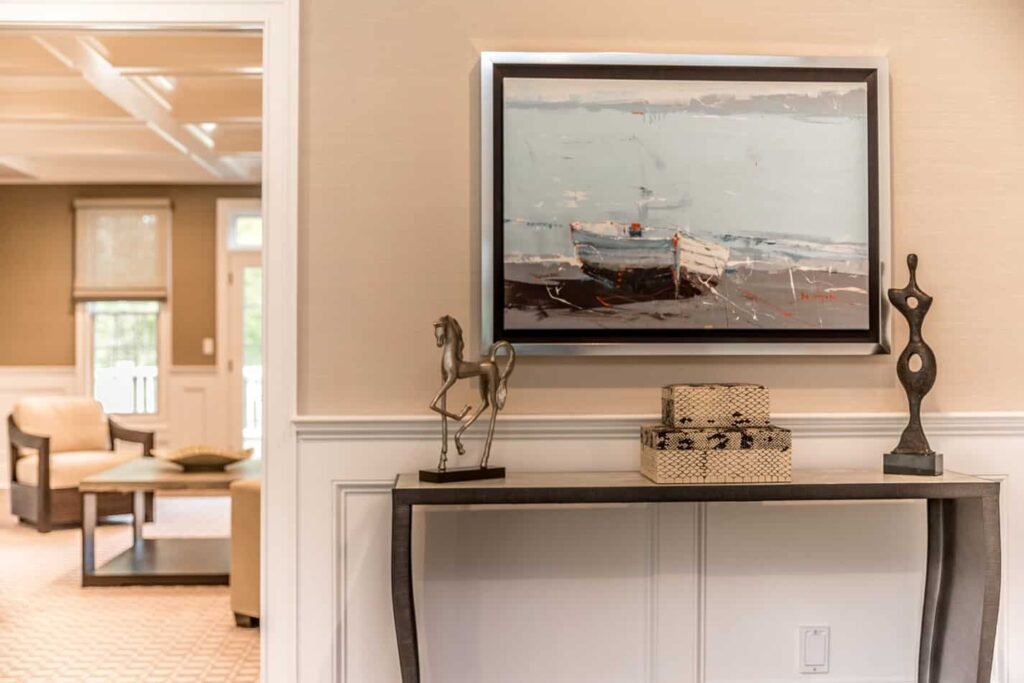 This room has it all. Built in cabinetry/millwork, custom designed fireplace mantel and coffered ceilings with transitional/modern understated furnishings. The simplicity of the geometric Stark rug keeps this room quiet yet the perfect place for family gatherings.
This palacheck chair is modern yet timeless and creates a great impact in this large oversized family room. I carefully selected a dark brown to contrast with the creams to have the impact it does. The panel molding and millwork are much needed additions to this family friendly room. The modern, transitional, millwork/cabinetry and mantel offset this classic palacheck swivel chair. The artwork is simple yet provides the perfect balance to this color palette.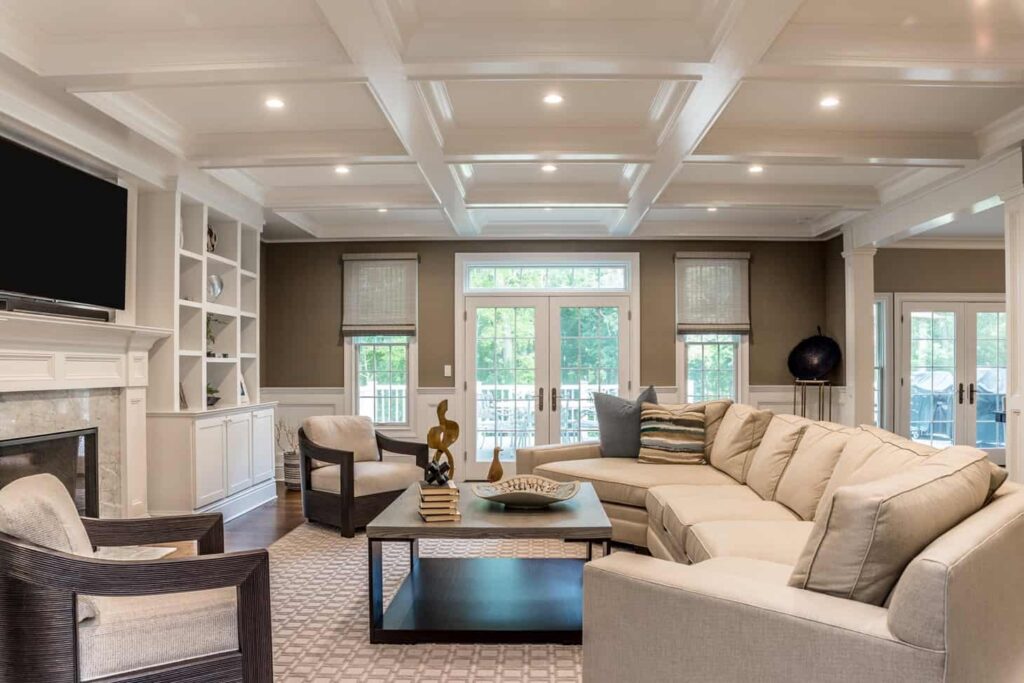 This plush cuddle chaise Taylor King sectional plays nicely off the custom table I designed, influenced by the Baker furniture line. Cabinetry and millwork make this room transitional/modern and perfect for entertaining.
There is no denying the draw and attraction of the Hamptons. The appeal of many superb Hamlets, that bring back fond memories of rural Americana and main street U.S.A. The absence of ubiquitous national retailers, and the presence of trendy boutiques, that add that an extra dimension to the marvelous shopping. Not to mention the refined elegant cuisine offered at an outstanding array of restaurants. The east end of Long Island beaches and the ocean have not only offered a calming effect on many, but the lavish mansions that are situated throughout provide spectacular views that are a must see.
If you are searching for a Hamptons Interior Designer, give Robyn Baumgarten a call for a free, friendly consultation to discuss your needs.
(516) 470.0861