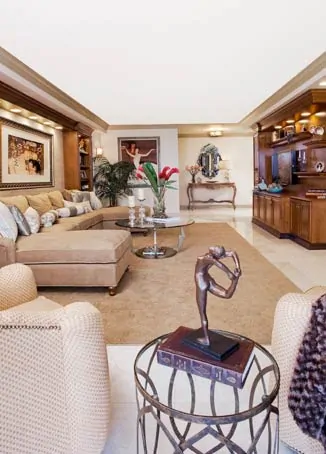 Residential Interior Design, living room, Great Neck Long Island NY
I have had the pleasure of designing the interiors of many splendid homes in Great Neck but this was one of my favorite projects. The homeowner, Ronnie, was a successful single woman in her 60's. Upon our initial consultation she expressed an aversion to the color black. She liked the colors coral and turquoise. We decided to give it a transitional look and use accents of coral and turquoise. The room was long and narrow and I suggested building the sofa into a nook which created interest and personality to the room. The shape of the sofa in a "U" which complements the space and invites interaction and conversation among guests. I also had grass cloth adhered to the back of the wall unit to provide texture which gave the nook a warm, cozy feel while also helping to pleasantly balance the acoustics of the room.
Opposite the seating nook, I designed a custom wall unit which tastefully housed the entertainment center. We stayed with simple lines as we wanted to create a classic transitional look. As far as Ronnie's aversion to black, we did purchase a clock for the kitchen with black trim. Ronnie says it was brown and I laughed and said, "It's ok, you just stepped a little bit out of your comfort level." Ronnie was thrilled with the design of her new living room and other rooms. Her home eventually caught the attention of House Magazine and was featured in the July/August 2009 issue.
Click to read the article in House Magazine about the interior design for this Great Neck home.

Interior Designer
Serving NYC and Long Island, NY
(631) 680.9691
Call for your complimentary interior design consultation
As an interior designer, I watch over every aspect of a design project. I work with carpenters, general contractors, architects, window treatment showrooms, upholsters, electricians, plumbers, tile suppliers and contractors and molding suppliers. I have a long-term relationship with my sources and make sure they provide my clients the highest quality workmanship as well as reliability to get the job done on schedule. I take my role seriously. As a professional interior designer, I personally take full responsibility to insure the finished product is done to my client's utmost satisfaction.
One of the best aspects to hiring an Interior Designer is that it allows my clients entrance into Designer Showrooms full of unique furnishings from around the world. Often, these designer showrooms are for the trade only and some of these design showrooms have back rooms with deep discounts. Again these designer showrooms are for the Trade only. This insures you, the client, unique and original furniture of excellent quality at reasonable prices.
Great Neck, Long Island
Great Neck consists of nine villages located on a peninsula on the north shore of Long Island, in Nassau County, New York. The area was originally home of the Mattinecock Native Americans with Europeans settling in 1664. In the late 19th century the New York Railroad turned Great Neck from a farm community into a thriving, suburban commuter town. F. Scott Fitzgerald lived in Great Neck in the 1920s, at six Gateway Drive in Great Neck Estates and the area became the inspiration for his novel The Great Gatsby. Wealthy New Yorker's and Hollywood movie stars built lavish homes in Great Neck and the area became synonymous with the decadence of the roaring 20's. The area is known for its magnificent estates and gorgeous scenery and considered one of the most desirable areas to live within commuting distance to New York City.
In the 2009 census, the median income for Great Neck was estimated at $98,720 and the estimated the median house or condo real estate value in was $901,906.
The land area of Great Neck is 1.35 square miles. Great Neck, NY zip codes are 11020, 11021, 11022, 11023, 11024, 11025, 11026 and 11027. The nearest cities are Great Neck Gardens, NY, Kensington, Long Island, NY, Saddle Rock Estates, Long Island, NY, Great Neck Plaza, Long Island, NY, Great Neck Estates, LI, NY, and Harbor Hills, Long Island, NY.