Great Kitchen Design Starts With A Plan
Hiring an interior designer to help you navigate the ins and outs of kitchen design, can save you money in the long run, and result in the kitchen of your dreams. The decisions of designing a kitchen can be daunting. These decisions include:
The overall kitchen layout.
Cabinetry color, style and mounting.
Cabinet hardware.
Choosing kitchen countertop and tile materials.
Deciding upon the orientation of the kitchen backsplash.
Color palettes and finish selections.
Basic appliances such as ranges, refrigerators, dish washers.
Specialty kitchen appliances such as coffee makers, confection steam ovens, integrated burners, multi-cookers, vacuum blenders, modular cooktops, soft ice makers, and hidden wine storage.
Plumbing Fixtures, such as sinks and faucets.
… Kitchen design decisions can go on and on!
Do you want a trendy kitchen design? How about an ultra-modern kitchen design? Or would you prefer a timeless and classic kitchen design? These are further decisions to ponder. Having the right kitchen design professional educate you and hold your hand throughout this overwhelming process will be the one decision that can end up as priceless.
Kitchen Design project - Roslyn NY
This kitchen was designed for one of my clients in Roslyn, Long Island.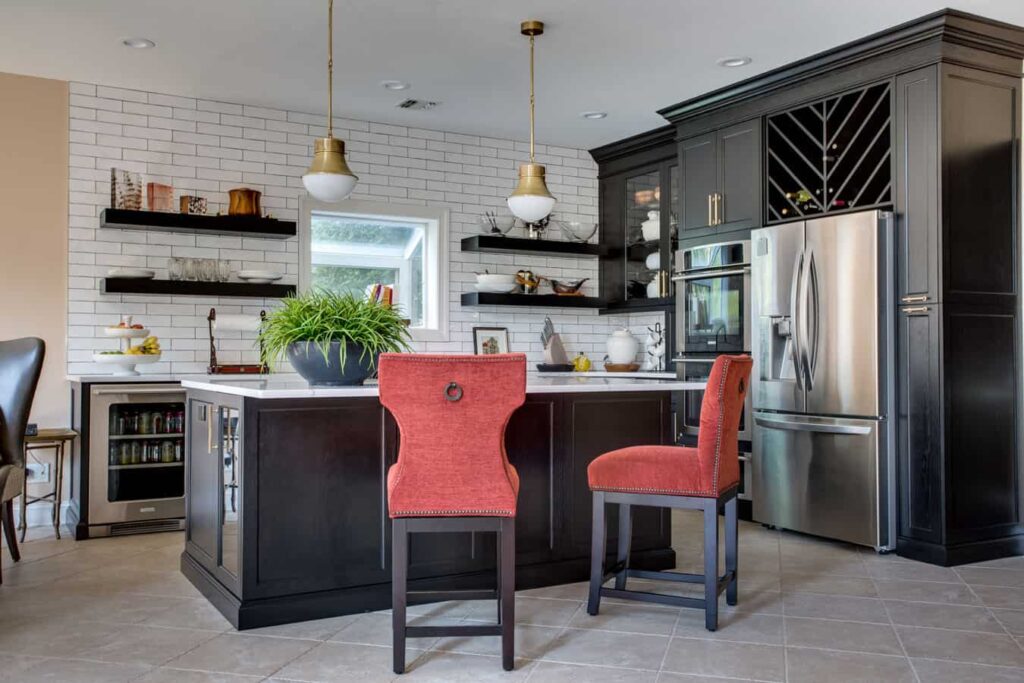 The floor tiles were existing and an element we did not budget to replace. The dark espresso finish on the oak cabinetry is offset by the classic white subway tile. These subway tiles are handmade and their imperfections are part of their organic elegance. The dark grout adds a striking contrast to the wall of white subway tile.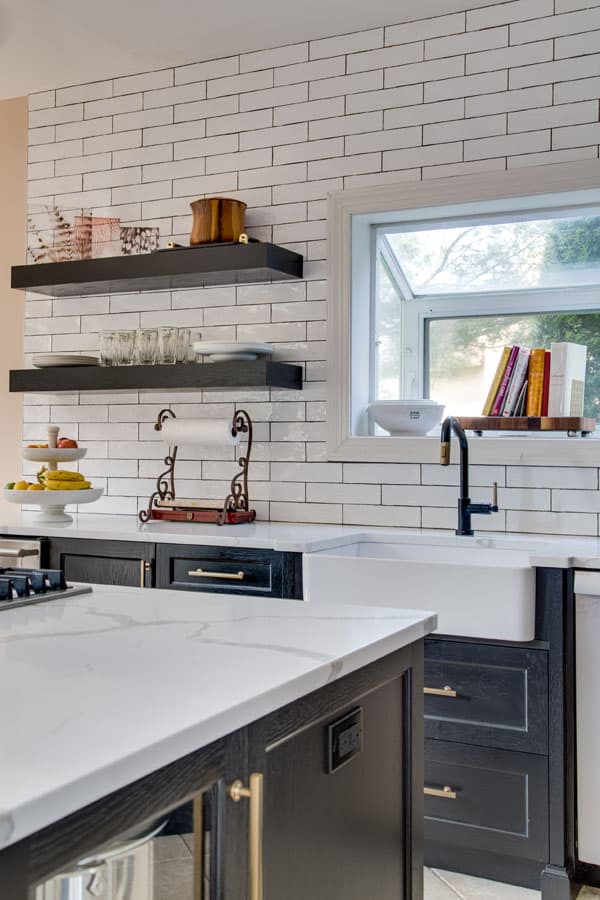 The stainless steel appliances give the space an upscale, industrial feel, and again plays off the dark finish of the shaker style cabinetry.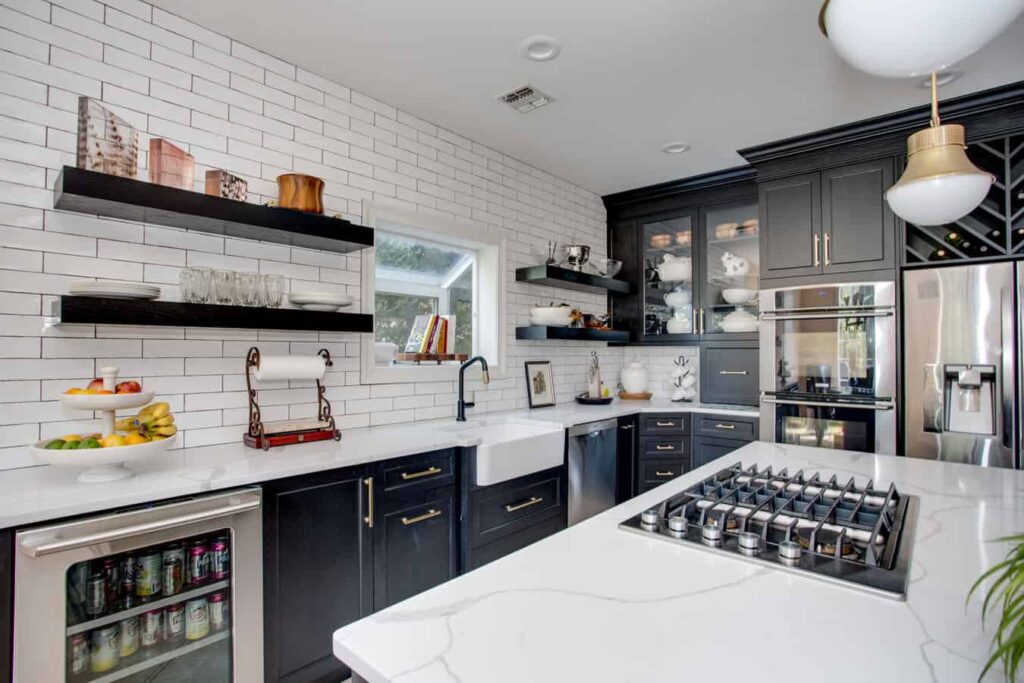 Over the double door stainless steel refrigerator is a custom wine rack that I designed that adds even more architectural interest to this amazing kitchen design. It also utilizes space efficiently in a typically useless cabinet zone.
The lighting was sourced through one of my favorite manufacturers, Visual Comfort. The matte gold tone again contrasts the dark ebony cabinetry.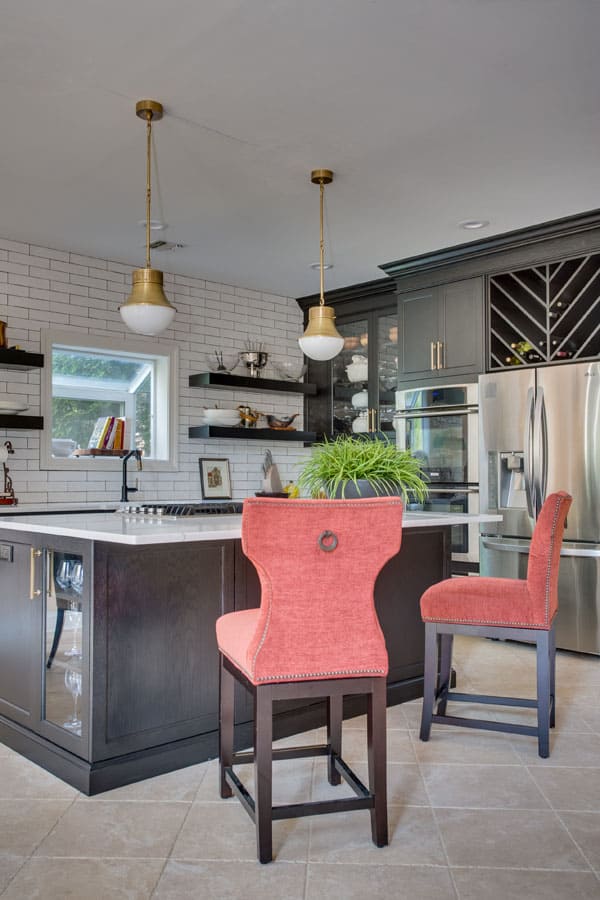 One of my trademarks is to add a pop of color to a room to keep it exciting, different and, above all, unique. This client loved the color red, so we added custom bar stools that we sourced through another one of my favorite manufacturers, Design Master.
Our interior design firm, INTERIORS BY JUST DESIGN, often gets projects featured in magazines and newspaper articles. This kitchen we designed in Roslyn NY was recently featured on longislandpress.com in the June 2019 issue entitled "Making Bold Statements."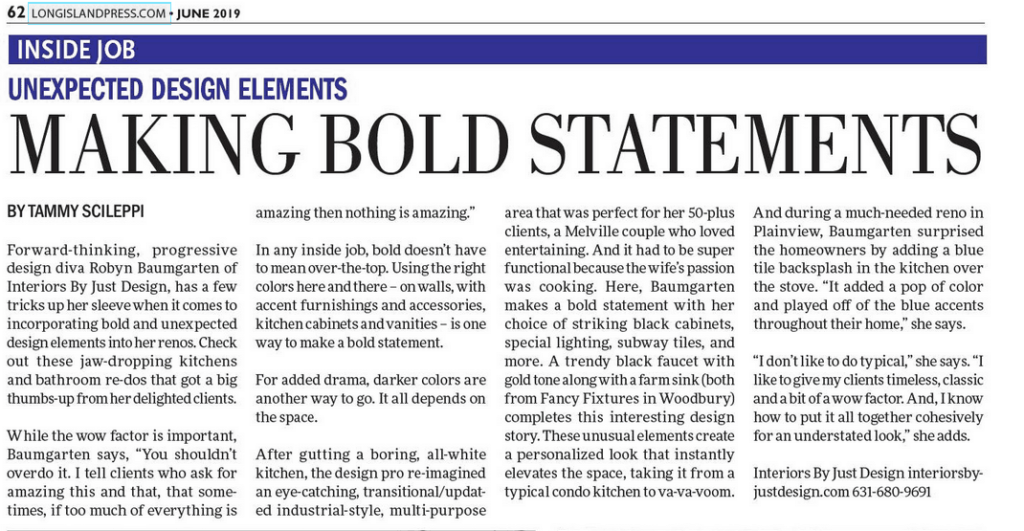 Feel free to CONTACT US ONLINE or call Robyn directly at (631) 680.9691 to discuss any kitchen design or any other interior design projects you have on your radar. We're here to guide you through the process and make it easy for you…maybe even fun!

More Kitchen Design Photos
If you'd like to browse kitchen design photos from some of the projects we have completed, please visit our kitchen design portfolio page.