Residential Interior Design: Living Room Woodbury, Long Island, NY
This client was a single ER Doctor who worked long hours. He lived in a lovely, but completely empty home in the beautiful town of Woodbury, on Long Island, New York. In contrast to the sterile hospital he worked in all day, the Doctor wanted the interior design of his home to feel warm and comforting.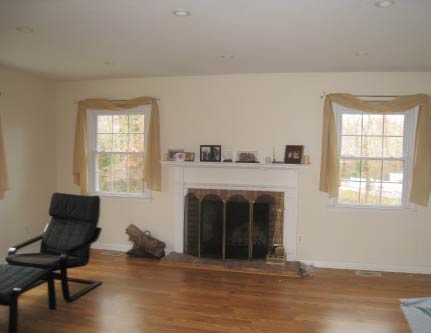 The Doctor worked an erratic schedule of long shifts in the Hospital and hiring an interior designer simplified the whole process for him. As an interior designer, many people don't realize that I am in their home to supervise the whole remodeling process. The Doctor never had to miss a day of work as I supervised the work of my craftsmen, carpenters, painters, electricians. I was also there on the days each piece of furniture or carpet was delivered and installed. Here's a photo of what the living room looked like before the doctor hired me as his interior designer.
The living room was completely empty and ready for a complete makeover. When it came to decorating, basically the whole house was a blank slate. Together we discussed design ideas for wall colors, molding and trim, furnishings and fabrics, the overall look of the project and budget. Our starting point was the molding and wall colors. Since the client expressed a desire for warmth, I presented him with a warm color palette of earth-tones. He liked the color samples I presented so we moved forward.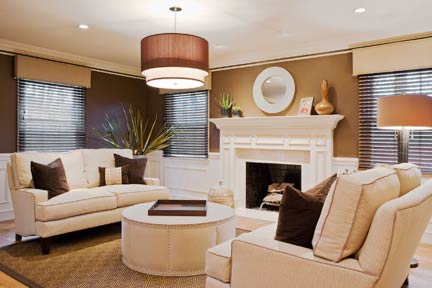 It took a while to find the right sofa set but I finally located a design that appealed to him. The sofas you see are soft and cushiony but with high backs which would be comfortable for reading. We had each sofa upholstered in a natural cotton fabric and custom trimmed in a brown ultra suede. I custom designed the ottoman in a similar off-white color ultra-suede fabric and trimmed it with stainless steel nail heads to give it a subtle, masculine look.
A large round light fixture was installed above the ottoman which centered the sitting areas focus and bathed the seating area in a soft but ample light for reading and entertaining. Another reading lamp was also added next to the Doctor's favorite seat near the fireplace. The artwork was also carefully selected to complement the design space.
I showed the Doctor swatches of area rugs within a similar, earthy color palette. The area rug we finally chose was sisal with just enough of a pattern to offset the crème sofas. The same fabric that trimmed the sofas was used to make the cornices. This created a very homogeneous and cohesive look to the space.
The old fireplace mantle was dismantled and, with the help of my molding contractor, we designed a new one to be built.

I have been working with the same team of craftsmen for ten years and I am always impressed with their quality of work. It's projects like this that clearly demonstrate the difference between a an average carpenter and an experienced Finish Carpenter. Sincere compliments to my guys for doing an impeccable job building this new fireplace mantle.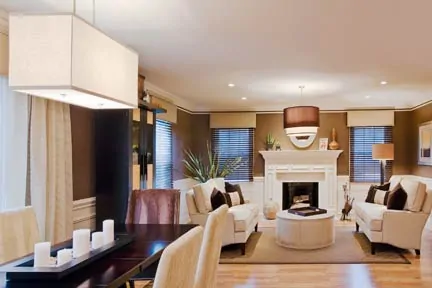 We continued the flow of the living area over to the dining area, using the same warm color palate and fabrics. I designed the window treatments with a boxed frame covered with a sheer fabric which allows in light and creates interest. The Dining Room table is ebony brown.
As a designer, I like to create an eclectic look. A room of interest has mixed and matched pieces. The dining room chairs are brown suede (same as the sofa trim) and I used the stainless steel nail heads again from the ottoman in the living room. The guest dining room chairs are the same crème color as the cornices and sofas. We used another area rug to further define the space of the dining room and selected a masculine geometric pattern that complimented the rectangular theme from the dining room's table and light fixture.

The finished look of this room pleased the doctor. He told me that it was a wonderful place to walk into after putting in long hour's working at the emergency room. He lights a fire, sinks into his new sofa and lets the stress of his day melt away.
Interior Designer
Serving NYC and Long Island, NY
(631) 680.9691
Call for your complimentary interior design consultation
As an interior designer, I watch over every aspect of a design project. I work with carpenters, general contractors, architects, window treatment showrooms, upholsters, electricians, plumbers, tile suppliers and contractors and molding suppliers. I have a long-term relationship with my sources and make sure they provide my clients the highest quality workmanship as well as reliability to get the job done on schedule. I take my role seriously. As a professional interior designer, I personally take full responsibility to insure the finished product is done to my client's utmost satisfaction.
One of the best aspects to hiring an Interior Designer is that it allows my clients entrance into Designer Showrooms full of unique furnishings from around the world. Often, these designer showrooms are for the trade only and some of these design showrooms have back rooms with deep discounts. Again these designer showrooms are for the Trade only. This insures you, the client, unique and original furniture of excellent quality at reasonable prices.
Woodbury, Long Island, NY
Woodbury is located on Long Island in Nassau County, New York. The area consists of upper middle class residential homes on larger than typical lots and includes the neighborhoods of Rolling Hills and Woodbury Estates. The land area of Woodbury is 5.06 square miles of wooded, residential land, with an elevation of 177 feet. The home architecture of the Woodbury area consists of high ranch, split ranch and low ranch styles, colonials and capes. Houses range in price from about $500,000 to $3.0 million. In the 2009 census, the median income for Woodbury was estimated at $ 157,966 and the estimated the median house or condo real estate value in was $1,092,739. Woodbury, Nassau County NY zip code is 11797. The nearest cities are Syosset, NY, West Hills, NY, Laurel Hollow, LI, New York, Oyster Bay Cove, NY, South Huntington, NY, Melville, NY, Old Brookville, NY, Upper Brookville, Long Island, NY, Muttontown, Long Island, NY, Jericho, NY, Old Westbury, LI, NY, Greenvale, Long Island, NY. East Norwich, NY and Glen Head, NY.